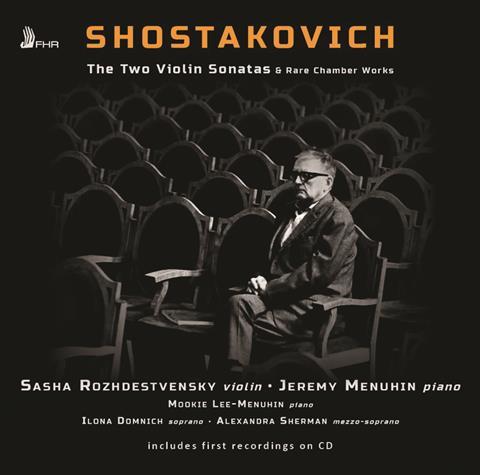 The Strad Issue: June 2016
Description: Shostakovich's Sonata and some cuttings from the composer's workbench
Musicians: Sasha Rozhdestvensky (violin) Jeremy Menuhin, Mookie Lee-Menuhin (piano) Ilona Domnich (soprano) Alexandra Sherman (mezzo-soprano)
Composer: Shostakovich; Stravinsky; Braga
Catalogue Number: FIRST HAND RECORDS FHR 37
Shostakovich's Violin Sonata, written in 1968 as a 60th-birthday present for David Oistrakh, is typical of the composer's spare late style. This sumptuously recorded, overtly expressive reading by Sasha Rozhdestvensky and Jeremy Menuhin is more conciliatory, audibly from a different age and time from the 1959 recording by the piece's dedicatee with Sviatoslav Richter. Rozhdestvensky indulges in lots of portamento and occasionally underplays the astringency of sul ponticello passages, but the duo achieves a nice momentum in the central scherzo and unleashes great power in the finale's variations.
The CD is complemented by some fascinating scrapings from the Shostakovich barrel, none more so than a melodious, albeit fragmentary sonata movement from 1945, here neatly rounded off with a short coda by Rozhdestvensky Sr (Gennady, the conductor). The Andantino from the Fourth String Quartet works beautifully in an arrangement by Dmitri Tsyganov, leader of the Beethoven Quartet, who premiered it. It is interesting actually to hear his transcription of Stravinsky's Symphony of Psalms for piano four hands, since it is usually confined to a footnote in Shostakovich's biography.
That tuneful morsel, Braga's Serenata, will be familiar to collectors of old discs, having been recorded by Mischa Elman (with the soprano Frances Alda) and Fritz Kreisler (with the tenor John McCormack). Shostakovich planned to include it in his opera The Black Monk (a project he eventually abandoned), for which purpose he spiced up the instrumental parts and added a second singing voice in close harmony. It makes a nice encore to this intriguing CD.
Carlos María Solare