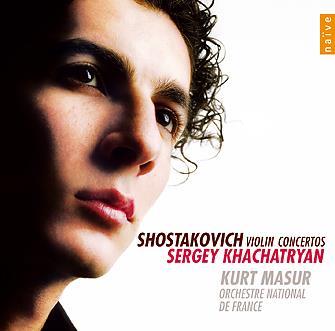 The Strad Issue: January 2006
Musicians: Sergei Khachatryan (violin) French National Orchestra, Kurt Masur (conductor)
Composer: Shostakovich
And still they come. Recordings of Shostakovich's claustrophobically forbidding First Concerto continue to emerge at a dizzying pace that currently shows no sign of abating. Although collectors should on no account miss hearing Baiba Skride's mesmerising account of the First Concerto for Sony, for a coupling of both concertos Daniel Hope (Warner) also mines the expressive core of Shostakovich's sound worlds to devastating effect. As I said in my original review, 'his cantilena whimpers mournfully, his pianissimos insidiously gnaw away at the music surface, his fortissimos hack through the textures like a rusty blade'.
Whereas Hope adopts an essentially revisionist stance, Sergei Khachatryan, one of the most formidable players of the younger generation, takes the 19th-century Romantic rhetorical tradition as his interpretative starting point. His super-intense, narrow vibrato and cantabile lyricism is hauntingly reminiscent of Ruggiero Ricci's high-octane 1950s take on the Khachaturian Concerto (Decca), although his well-upholstered tone and seductively cushioned attack kept taking me back to Cho-Liang Lin's glorious account of the Nielsen (Sony).
At first I wondered whether the First Concerto's lacerating musical gestures would possess enough sting, yet such is Khachatryan's total command of every musical parameter that the Tchaikovskian exuberance of the finale, which generates the greatest excitement down the home strait, creates an overwhelming effect. If Hope concentrates the mind entirely on the music's remorseless emotional journey, with Khachatryan it feels more like a virtuoso utterance in the grand tradition. Kurt Masur and his French players provide luxurious backing, and the recording is as physically imposing and involving as the playing itself.
JULIAN HAYLOCK