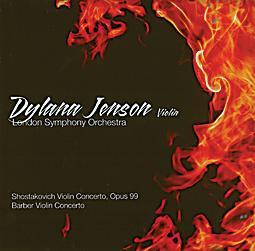 The Strad Issue: January 2012
Description: Authoritative performances marred by unhelpful recorded balance
Musicians: Dylana Jenson (violin) London Symphony Orchestra/David Lockington
Composer: Shostakovich & Barber

Dylana Jenson's career has been a patchy saga of early success in the 1980s scuppered by the removal of a loaned Guarneri. Now here she is with an instrument made for her by the New York luthier Sam Zygmuntowicz. The CD certainly showcases both her abilities and the qualities of the instrument, not least, unfortunately, by putting her way out in front of the recording, with a rather woolly-sounding London Symphony Orchestra in the background. Jenson plays Shostakovich's First Concerto with a rich-toned passion which at full flight has an urgent and tragic strength. Sometimes she overdoes it and pushes ahead of the beat, adding unscripted syncopations to the implacable progress of the third movement, but the great cadenza builds impressively and inexorably. However, the imbalance between violin and orchestra does Shostakovich ill-service, particularly in the scherzo second movement, where the brilliant, quicksilver dialogues between soloist and woodwind scarcely register. This is a pity, because her performance has impressive authority.
The genial lyricism of Samuel Barber, following a few seconds after the highly wrought final pages of Shostakovich, comes as a bit of a shock – or perhaps it's cathartic. This, too, has its torrid moments, tempered by some beautiful melodic playing, and capped by joyful virtuosity in the finale.



TIM HOMFRAY