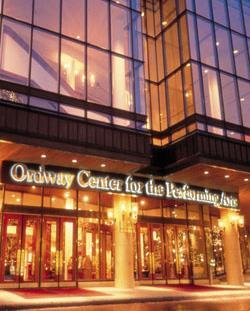 Ten musicians from the St Paul Chamber Orchestra (SPCO) have retired from the ensemble. Seven are string players, and all the retiring musicians have played in the orchestra for at least 30 years.

An incentivised retirement package for players aged 55 and older was part of the contract signed by musicians and management in April this year. The new contract, which ended a 191-day lockout, also cut base pay by around $15,000 and stipulated that the orchestra would be reduced from 34 to 28 players.

The departing string players are violinists Thomas Kornacker, Brenda Mickens and Michal Sobieski, violists Evelina Chao and Tamás Strasser, and both the orchestra's double bassists, Christopher Brown and Fred Bretschger.

According to the SPCO website, just 19 musicians remain on the orchestra's roster, and one of them – cellist David Huckaby – is on a leave of absence.

The orchestra is set to begin its 2013–14 season in September with concerts in Mears Park and the Ordway Center (pictured) in St Paul, and the Ted Mann Concert Hall in Minneapolis.
Subscribe to The Strad, or download our digital edition as part of a 30-day free trial.