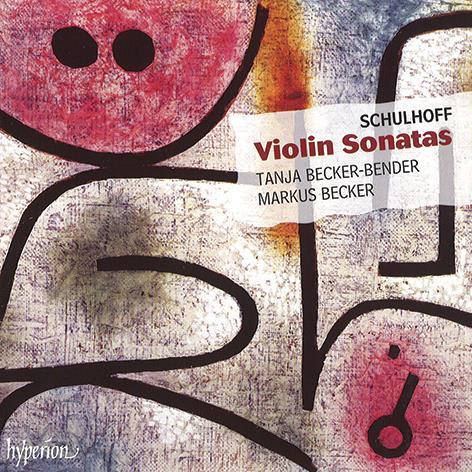 The Strad Issue: January 2011
Description: An invigorating tour of the early 20th century from a single composer
Musicians: Tanja Becker-Bender (violin) Markus Becker (piano)
Composer: Schulhoff
Erwin Schulhoff (1894–1942) was one of the 20th century's chameleons: late Romantic, Impressionist, Expressionist, Dadaist, Jazzist, neo-Classicist are all labels that apply to his music at various times of his life, and sometimes concurrently. The four works here, spanning the years 1911 to 1927, display a more plausible sequence of musical alliances: Viennese charm in the early Suite (his op.1), Debussian harmonies in the First Sonata (1913), 1920s 'New Objectivity' in the Solo Sonata (1927) and Bartókian energy and angularity in the Second Sonata (also 1927).
Tanja Becker-Bender has no problem negotiating her way through this stylistic plurality. She indulges to charming effect the playfulness of the early Suite, where shades of Korngold intertwine with the sinuousness of early Schoenberg. A touch of roughness to her tone doesn't sound out of place in the gruff Allegro risoluto of the First Sonata's opening and it's a measure of her responsiveness to the varying demands of the music that she can alter her sound so well to what is required of her at any one point, from the slithering Debussianisms in the finale of the same work to the stomping dance at the end of Sonata no.2.
Markus Becker is a supportive duo partner throughout and the recording of both players is well balanced.


Matthew Rye