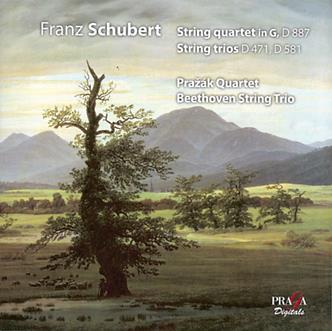 The Strad Issue: January 2008
Musicians: Pražák Quartet, Beethoven Trio
Composer: Schubert
Composed in the white heat of creativity in just ten days, the 15th and last of Schubert's quartets opens with an Allegro that is symphonic in its proportions, and the Pražák Quartet's trenchant response is unquestionably the most dramatic I have encountered on disc. The opening bars, where the key of G major is temporarily intimidated into subservience by its G minor neighbour, here sets the scene of conflict, the players revelling in the sheer impact they can generate throughout the movement.
The following Andante is no less highly charged, the song-like passage offering moments of respite. The Scherzo drives the music urgently forward and the players use the copious dynamic markings to create lightning mood swings. Even though the finale eventually brings happiness, the quartet does not slacken its impressive strength. Although the leader's intonation becomes a little precarious in the more excitable moments, everything is otherwise technically secure.
The youthful B flat major String Trio D581 seldom gets an airing, perhaps because the reliance on Haydn as its precursor creates a genial but lightweight score. Taking an unhurried approach, the Beethoven Trio's neat and nicely balanced reading conveys a welcome sense of spontaneity, rounding off the score with a jogging finale that just needs to move forward with a little more urgency. A short single-movement string trio, also in B flat and composed a year earlier, in 1816, provides a joyous conclusion.
The engineers have captured every inner detail in a particularly fine recording.



DAVID DENTON