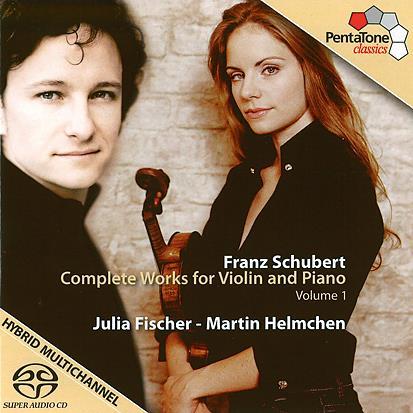 The Strad Issue: January 2009
Musicians: Julia Fischer (violin) MartinuHelmchen (piano)
Composer: Schubert
We seem to have said goodbye for ever to the cuddly image of Schubert. And a good thing too, some may say. These splendid performances, perhaps the best of the current bunch, are definitely German rather than Austrian in their punctilious rhythm and ensemble. All I miss is the element of charm.
The A minor Sonata is quite a big work and Julia Fischer and MartinuHelmchen are right to take it seriously. They play its wondrous Andante very beautifully. The Andante of the G minor Sonata also brings a heartfelt response and natural phrasing from both artists and the trio of the menuetto has a delightful lilt.
The smaller D major work is very nicely handled throughout, although the finale does not quite smile. In fact Fischer's passagework really fizzles.
The recordings, from sessions six months apart, sometimes make the lower end of the piano a little tubby and the violin tone a bit fierce, especially in the technically more demanding Rondo brillant. Its Andante is played very dramatically and the transition to the exciting Allegro is well timed. PentaTone's publicity suggests that Fischer will play both parts of the C major Fantasy in vol.2. Not a good idea.


TULLY POTTER