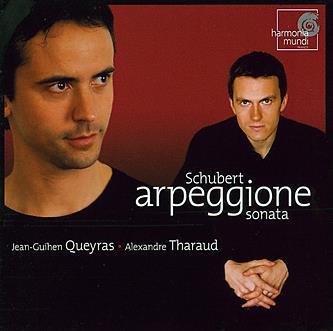 THE STRAD RECOMMENDS
The Strad Issue: January 2006
Musicians: Jean-Guihen Queyras (cello) Alexandre Tharaud (piano)
Composer: Schubert, Webern, Berg
Schubert's Arpeggione Sonata, generally viewed as an enchantingly sunny work, reveals an underlying anguish in the hands of this much-recorded French duo. Queyras writes in the booklet of this anguish, and of how study of Schubert's original pen strokes reveals new expressive nuances. He cites the dark passage towards the end of the E major Adagio as evidence, but tragedy enters the outer two movements as well in this fascinating interpretation.
The first movement's opening theme, graceful first time round, is robbed of vibrato in the exposition repeat, giving it an empty, desolate feel. This mood returns at the end of the development, heralding a hushed recapitulation. The last movement has masses of style and panache, with Queyras moving fluently around his instrument's upper reaches as one charming episode follows another. But tragedy is again waiting at bar 123, when the wistful little theme is heard in pianissimo. The final chord, usually played pizzicato, is slowly sounded out by the bow.
The transcription of Schubert's straightforward violin Sonatine is entirely successful, those of the songs less so – the short phrases of Das Wandern sound foolish on the cello, and at just over a minute, further stanzas are needed to make a satisfying whole.
The pieces by fellow-Viennese composers Berg and Webern reveal the duo's attention to every nuance of expression – only enhanced by the disc's sparklingly clear recorded sound. They have the ability to create a feeling of absolute stillness and serenity, notably in the Berg's Sehr langsam, and to place Webern's wisps and fragments in a totally convincing way.
JANET BANKS