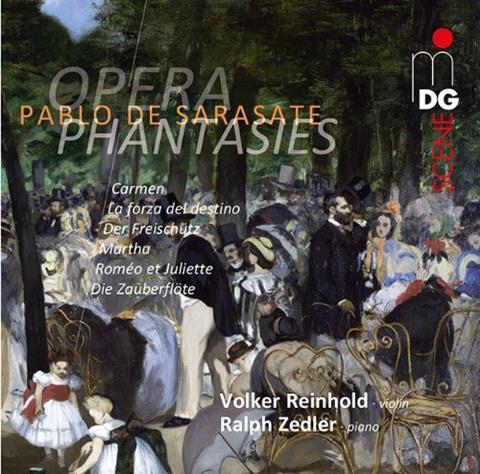 The Strad Issue: January 2014
Description: A generally satisfying collection of virtuoso operatic reworkings
Musicians: Volker Reinhold (violin) Ralph Zedler (piano)
Composer: Sarasate
Pablo Sarasate composed fantasies on popular operas throughout his life as a composer, and he used their technical demands in concert to demonstrate his immense brilliance. Even placed before today's plethora of virtuosos, they still prove taxing in their requirement for an outgoing show of flair and brio.
Facing that challenge is the concertmaster of the Meckle nburg State Orchestra, Volker Reinhold, who has chosen a programme designed to excite and which allows the soloist to throw caution to the wind in a mood of absolute spontaneity. But in often adopting a more circumspect approach, he is less than totally secure in his intonation in the glittery and hectic finales of the Carmen and Magic Flute fantasies. Yet with a judicious use of vibrato he produces a pleasing tonal quality that is most satisfying in the tender lyric beauty he brings to Gounod's Roméo et Juliette, and in the less demanding moments in the Reminiscence of Flotow's Martha.
One wishes the rhythmic rectitude of Ralph Zedler's accompaniments would give way to something rather more pliable, and the ongoing Sarasate series from Tianwa Yang (Naxos) would be my first choice among recent releases in this repertoire. The recording, however, admirably balances the instruments in a warm acoustic.
DAVID DENTON