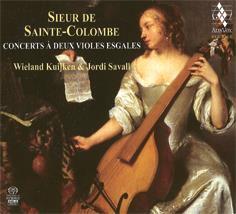 The Strad Issue: January 2012
Description: Two masters of the viol in music from the French Baroque
Musicians: Wieland Kuijken, Jordi Savall (bass viol)
Composer: Sainte-Colombe
The recordings for this two-disc set were originally made in 1976 and 1992. They embrace ten of Sainte-Colombe's 67 Concerts, which comprise not only popular late 17th-century French dances but also movements of diverse moods, many with descriptive titles.
Wieland Kuijken and Jordi Savall have this music in their bones. They are sensitive to Sainte-Colombe's expressive language, changes of mood and register, harmonic audacities and improvisatory opportunities, and they are as proficient at reflecting his melancholy and despair as they are at conveying his humour. In the earlier recording their accounts of the 'Sarabande gaye' (Concert 27: 'Bourrasque'), the 'Joye des Elizées' (Concert 44: 'Tombeau Les Regrets') and the two 'Gigues en bourrasque' (Concert 54: '[La] Dubois'), the second of which features characterful dialogue, masterfully dispatched, lighten the otherwise largely melancholy atmosphere; the latter especially predominates in Concert 44, notably in its chromatic, dissonant opening movement and the intensely emotional 'Les pleurs'.
These players' intuitive partnership seems even more free and relaxed on the second disc, as if their realisations of Sainte-Colombe's subtly communicative inflections have passed the experimental stage. It is heard to greatest advantage in 'La conference' (Concert 8), the elegiac nuances of which are captured with compelling delicacy and refinement, the seductive 'Le tendre' (Concert 3), and the same work's sombre 'Sarabande' and bleak 'Menuet du tendre'; by contrast, Concert 51 ('[La] Rougeville') offers light at the end of an otherwise dark tunnel. The recordings have a suitably warm ambience and the tonal sonorities of both players are evenly matched.
ROBIN STOWELL