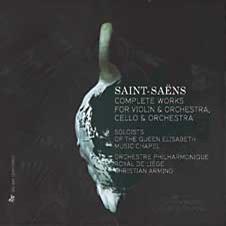 The Strad Issue: January 2014
Description: A comprehensive survey of the complete violin and cello works with orchestra
Musicians: Elina Buksha, Jolente De Maeyer, Harriet Langley, Maria Milstein, Liya Petrova, Tatiana Samoui (violin), Pau Codina, Wojciech Fudala, Adam Krzeszowiec, Deborah Pae, Noëlle Weidmann (cello), Royal Liège Philharmonic Orchestra/Christian Arming
Composer: Saint-Saëns

Two things shine through in this three-disc boxed set: one is the richness and variety of Saint-Saëns's music, spanning more than 50 years, with its mixture of Classical structure and whimsical eccentricity; and the other is the stylistic unity of the eleven student soloists from Belgium's Queen Elisabeth Music Chapel, who produce consistent performances across these discs, underpinned by generally very tidy and sympathetic playing by the Royal Liège Philharmonic Orchestra. This set of discs follows on from the Vieuxtemps violin concerto project of 2010 and is the brainchild of celebrated Chapel pedagogues Gary Hoffman and Augustin Dumay.
The First Violin Concerto is the earliest composition and of course one of the best known, performed with passion here by Bulgarian-born Liya Petrova, winner of the Unesco Mozart Medal at the age of eight. It is marred only by over-close miking (a characteristic of the entire set and more to the detriment of cellists than violinists, as one might expect) and a slightly soggy and over-slow low-register vibrato, a trait that also characterise her Introduction and Rondo capriccioso. The equally famous First Cello Concerto is also successful in Adam Krzeszowiec's hands, but his fluid, warm playing can be disfigured by a rather surging approach to individual notes, especially in the finale, which can break up singing phrases.
The lesser-known Second and Third violin concertos, and the difficult and rather eccentric Second Cello Concerto get well-balanced readings, and the shorter pieces embody some thoughtful playing, though I didn't like the rather wobbly and wispy nature of Elina Buksha's sound in the Prelude from La déluge, or indeed Harriet Langley's wide vibrato in the Romance in D flat major.
Overall, this set represents a significant project for the mainly young soloists featured, and is a testament to the consistency and quality of the institution to which they belong.


The disc contains: Saint-Saëns: Violin Concertos no.1 in A major op.20, no.2 in C major op.58 & no.3 in B minor op.61, Introduction and Rondo capriccioso op.28, Romances in D flat major op.37 & C major op.48, Prelude to Le déluge op.45, Étude en forme de valse op.52 no.6 (arr. Ysaÿe), Morceau de concert op.62, Havanaise op.83, Caprice andalous op.122, Allegro appassionato op.43, Cello Concertos no.1 in A minor op.33 & no.2 in D minor op.119, Cello Suite op.16b, Romance in F major op.36, La muse et le poète op.132
David Milsom