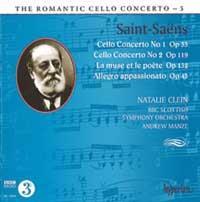 The Strad Issue: January 2014
Description: A powerfully played collection of the composer's works for cello and orchestra
Musicians: Natalie Clein (cello) Antje Weithaas (violin) Julia Lynch, Judith Kearey (piano) BBC Scottish Symphony Orchestra/Andrew Manze
Composer: Saint-Saëns
A new recording by Natalie Clein is always an event – her last was two years ago – and this one finds her on top form. Clein enters the First Concerto with striking drama over crisp, clean orchestral sound. She moves the tempo on briskly, sometimes, in passage-work, threatening to arrive ahead of Manze, but this is exciting stuff with a real sense of happening.
The delicacy with which Clein treats the melodic material is especially notable in the Allegretto movement, whose opening she plays on her 1777 Guadagnini cello at a properly subdued pianissimo, allowing for an effective warming of tone at the espressivo. Her C-string melody towards the end of the finale feels rather understated, but it is followed by the sweetest ascending harmonic scale I have ever heard, captured perfectly in this richly recorded disc.
Concerto no.2 draws a muscular response from both orchestra and soloist. The beauty and freedom of Clein's playing in the first movement's three solo episodes and in the poignant Andante sostenuto is matched by her technical confidence and strong tone.
The Allegro appassionato is dazzlingly thrown off, and with a most effectively fluid approach to tempo, and violinist Antje Weithaas joins Clein in some ecstatically flowery and expressive playing in the single-movement La muse et le poète.
Janet Banks