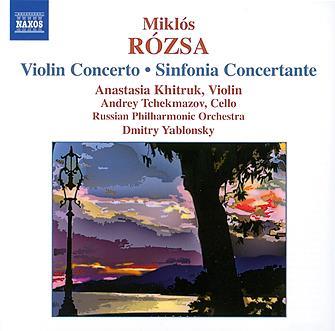 Musicians: Anastasia Khitruk (violin) Andrei Tchekmazov (cello) Russian Philharmonic Orchestra, Dmitri Yablonsky (conductor)
Composer: Rózsa
Míklós Rózsa may have composed the music for over 90 films, but his 'classical' output reveals him on a par with his contemporary Erich Korngold. Indeed his solo string concertos, already compellingly issued on Koch Schwann by the New Zealand Symphony Orchestra, raised the question whether Rózsa might not even be, in orchestral terms, the greater of the two. Film music may have been his daily bread, but it was his serious oeuvre that mattered.
There are hints of the film music in the texturing of the 1956 Violin Concerto (written for Heifetz), mainly because Rózsa reworked some of his best orchestral ideas for his films, rooting it in the intensely beguiling Hungarian folk music of his childhood. Anastasia Khitruk is a compelling, gutsy exponent of this wonderful work, firmly abreast of the musical argument and utterly persuasive, not least the Szymanowski-like oriental touches near the close of the Lento.
Andrei Tchekmazov's exquisite tone and delicate poise are stupendously involving as he launches the central Theme and Variations of the Sinfonia concertante (Rózsa's masterpiece, written for Heifetz and Piatigorsky); and the two instruments' sparring in later variations is pure dazzle and delight, amid Magyar orchestral outpourings under a magnificently idiomatic Dmitri Yablonsky. I find Naxos's very direct Russian recording utterly splendid.
Roderic Dunnett