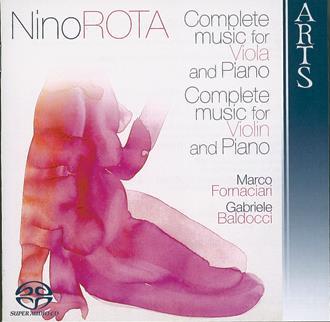 The Strad Issue: January 2008
Musicians: Marco Fornaciari (violin/viola) Gabriele Baldocci (piano)
Composer: Rota
Nino Rota (1911–79) is, of course, best known as Federico Fellini's long-time collaborator in numerous films (La strada, Otto e mezzo and Amarcord among them), but his 'serious' pieces span the whole of his creative life. The earliest composition here is the First Viola Sonata, written in 1934–5 for William Primrose (who had just switched to the viola), and reminds one of Milhaud's viola pieces in its boisterousness. The slightly later Violin Sonata (1936–7) inhabits a very different, almost impressionistic sound world. Rota's other viola pieces – an Intermezzo and a second sonata, transcribed from a clarinet original – are both from 1945 and were written for the young Piero Farulli (of Quartetto Italiano fame). The CD is completed by two violin showpieces: Amanti senza amore (a gypsy stravaganza written for a 1947 film of that name) and A Sentimental Devil from 1969, which in its grotesque, angular melodies most recalls the Rota we know from those Fellini soundtracks.
Violinist Marco Fornaciari is equally at home on the viola, but then Rota's writing for the larger instrument doesn't really make full use of its lower strings, concentrating rather on the middle-high register. I found Fornaciari's short-breathed, 'period' phrasing at the start of the Intermezzo somewhat disconcerting, but on the whole I enjoyed this mellifluous music very much. Gabriele Baldocci is a strong partner, and the excellent recording has the violin/viola cosily embedded within the piano sound. Great music it isn't, but well put across as it is here it is well worth getting to know.
Carlos María Solare