An exquisite musical madeleine to be enjoyed again and again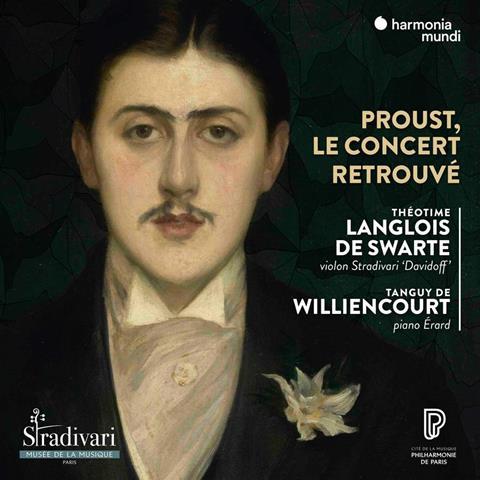 THE STRAD RECOMMENDS
The Strad Issue: July 2021
Description: An exquisite musical madeleine to be enjoyed again and again
Musicians: Théotime Langlois de Swarte (violin) Tanguy de Williencourt (piano)
Works: Fauré: Violin Sonata no.1 in A major op.13; Nocturne no.6 in D flat major op.63; Berceuse op.16; Après un rêve. Hahn: A Chloris; L'heure exquise. Liszt: Isoldes Liebestod (after Wagner); and music by Schumann, Chopin and Couperin
Catalogue number: HARMONIA MUNDI 902508
This is one of those rare instances where the concept, material and performances align with resounding success. The starting point is the recital hosted by the writer Marcel Proust in a private room of the Ritz in Paris on 1 July 1907.
Fauré, who was to have performed, withdrew at the last minute, but his music – about which Proust claimed he could have written 'a 300-page volume' – remained the focus. Alongside the op.13 Violin Sonata, Berceuse and Après un rêve are the big-boned solo-piano Nocturne no.6, as well as other piano pieces by Chopin and Schumann, and Liszt's piano transcription of Isoldes Liebestod. Couperin extends the French line back to two centuries earlier. Violin-and-piano transcriptions of popular songs by Reynaldo Hahn (Proust's one-time lover) top and tail the programme.
Apart from offering a delicious flavour of the Paris salons (and the inescapable influence of Wagner), the two musicians on this disc bring a further perspective by playing on historical instruments – the 'Davidoff' Strad of 1708 and an Érard piano of 1891 – infusing the programme with a distinctive, transportive colouring.
The performances are unfailingly intelligent and idiomatic, not least the dark, enigmatic beauty of the Andante of the Fauré Sonata, which precedes a needle-sharp Scherzo. The sound is top-notch too. The overall package strikes with the force and intrigue of a Proustian madeleine moment.
EDWARD BHESANIA