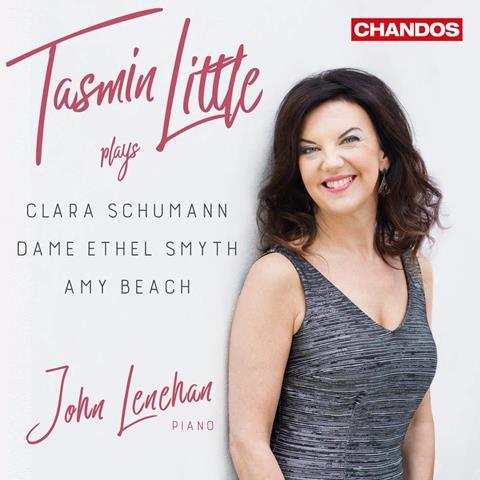 THE STRAD RECOMMENDS
The Strad Issue: April 2019
Description: Heady musical brew in works by women composers
Musicians: Tasmin Little (violin) John Lenehan (piano)
Works: BEACH Violin Sonata in A minor op.34; Romance op.23; Invocation op.55; C. SCHUMANN Drei Romanzen op.22; SMYTH Sonata in A minor op.7
Catalogue Number: CHANDOS CHAN 20030
Tasmin Little's survey of violin works by three female composers is a rich concoction, full of dense argument and heavily perfumed harmonies, and might be best experienced in small doses.
But Little is a thoroughly persuasive advocate for these seldom-aired works, combining a lustrous, vibrato-laden tone with pinpoint precision of articulation and a supple, though never overstated, rhythmic fluidity, to gloriously convincing effect.
She soars with an expansive sense of freedom in the lyrical lines of Amy Beach's Brahmsian A minor Sonata, though impetus sometimes flags when she lingers a little too long over the first movement's slower passages.
She maintains her strong definition, though, amid the helter-skelter rhythms of its Scherzo, and performs its punchy finale as though delivering a dramatic soliloquy.
Her ability to spin an ever-developing line comes to the fore, too, in Beach's Romance and Invocation that close the disc – two salon pieces that pack immense passion and drama into their brief durations.
From its austere opening to its folk-like, Celtic-tinged slow movement, there are many unexpected changes of direction in Ethel Smyth's A minor Sonata, but Little is alive to the work's restlessly shifting moods, most impressively in conveying both the mercurial wit and earthbound heartiness of its Scherzo.
She plays with miraculous concentration, too, in the three short but sophisticated romances by Clara Schumann. Pianist John Lenehan provides agile, considered support throughout, and recorded sound is warm and close.
DAVID KETTLE
Read: Tasmin Little: why I love the music of Ethel Smyth, Clara Schumann and Amy Beach