Two splendid soloists engage in a dialogue worthy of the finest actors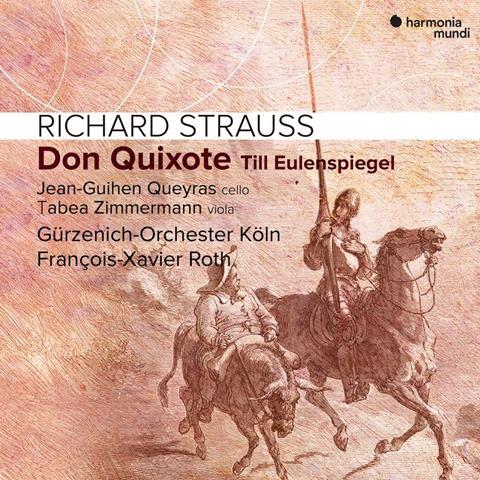 The Strad Issue: February 2022
Description: Two splendid soloists engage in a dialogue worthy of the finest actors
Musicians: Tabea Zimmermann (viola) Jean-Guihen Queyras (cello) Gürzenich-Orchester Köln/François-Xavier Roth
Works: Strauss: Don Quixote; Till Eulenspiegel
Catalogue number: HARMONIA MUNDI HMM902370
The Gürzenich Orchestra gave the premieres of the two main works on this album, and it clearly hasn't forgotten them. Till Eulenspiegel is a virtuoso blast, and Don Quixote opens with fine playing from the strings – and the oboe. Queyras as Quixote is both rhythmic and languid when he appears, and Zimmermann as Sancho Panza is fleet and captivating. As the two encounter the windmills in Variation I, Queyras opens with lumbering dignity and ends in rich, woody-toned recitative, before setting off to attack the sheep in Variation II.
In the next two variations Zimmermann excels herself, crisp and energetic in her conversation with Quixote, her powerful sound and expressive dynamics suggesting impulsive restlessness. In Variation V, the Knight's vigil, Queyras assumes the character of Quixote with complete conviction: reflective, melancholy, roused to passion, all done with the freedom of soliloquy one might expect of an actor. He produces some splendid forceful pizzicato at the end of Variation VIII – followed by a pair of excellent solemn bassoons in Variation IX.
The finale brings valedictory playing from Queyras, before a final gentle glissando down to low D. At the end of the disc there's lyrical charm in Strauss's early Romanze. The recording is well balanced and brings out all the colour of the playing.
TIM HOMFRAY