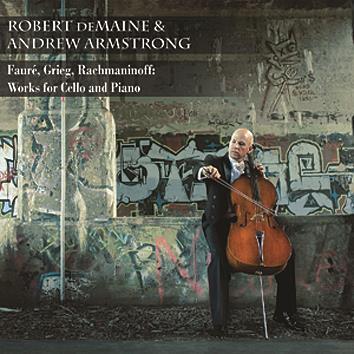 THE STRAD RECOMMENDS
The Strad Issue: December 2017
Description: Lavish and powerful playing of Romantic cello music
Musicians: Robert deMaine (cello) Andrew Armstrong (piano)
Works: FAURÉ Élégie in C minor op.24; GRIEG Cello Sonata in A minor op.36; RACHMANINOFF Cello Sonata in G minor op.19
Catalogue Number: LEAF MUSIC LM215
DeMaine and Armstrong are persuasive exponents of Romantic repertoire, and in particular of Rachmaninoff's Sonata. Its lavish emotions flow naturally from deMaine's 1860 Dominique Peccatte bow, and his playing joins convincingly here with Armstrong's beautifully expressive and virtuosic pianism in a dynamic and engaging interpretation.
DeMaine, principal cellist with the Los Angeles Philharmonic, plays his 1841 Vuillaume cello for this disc, whose warm and sonorous recorded sound brings out the richness of the instrument's tone. Rachmaninoff's Andante is beautifully calm, with well-chosen rubato and a real feeling of yearning at the close, and there is an atmosphere of excited celebration in the Allegro mosso finale. In the scherzo, the second quavers of the slurred pairs are so clipped as to be nearly lost, but the expansive joy of the A flat theme is marvellously conveyed by deMaine's full and wide vibrato.
The Grieg Sonata also draws powerful playing from both musicians although somehow the emotional world of the slow movement does not quite ring true, despite the impressively rich cello tone in high tessituras. Ensemble is excellent throughout, especially with the passing of the cello's pizzicato notes to and from the piano in the last movement. A particularly weighty and sombre Fauré Élégie opens the disc.
JANET BANKS