Stylish and capably executed cello sonatas, if missing some magic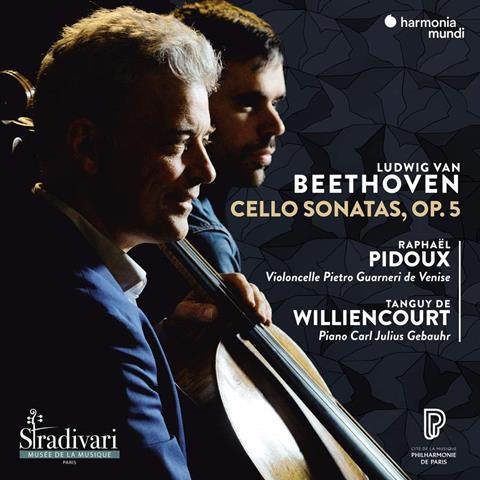 The Strad Issue: March 2021
Description: Stylish and capably executed cello sonatas, if missing some magic
Musicians: Raphaël Pidoux (cello) Tanguy de Williencourt (piano)
Works: Beethoven: Cello Sonatas op.5; Variations on 'Bei Männern, welche Liebe fühlen'. Pleyel/Baudiot: Nocturne (Souvenir de la flûte enchantée)
Catalogue number: HARMONIA MUNDI 902410
First performed for Friedrich Wilhelm II of Prussia by the composer alongside one of the Duport cellist brothers in the king's service, Beethoven's pair of op.5 Cello Sonatas offer little challenge to cellists. Even still, though they are stylish enough and capably executed here, Raphaël Pidoux struggles to make his mark on the pieces. As well as being down to the writing itself, this may also be due to the instrument (a 1734 Guarneri) and the sound engineering (which could have lifted the cello more, in balance and in tonal bloom). Pidoux's partner, Tanguy de Williencourt, plays an 1855 Carl Julius Gebauhr piano that post-dates these works by half a century, although its leather-lined hammers give sharper articulation than modern pianos, and its weaker damping leads to tangy resonances.
The variations on 'Bei Männern, welche Liebe fühlen' from The Magic Flute offer more opportunities to the cellist and even if Variation no.1 could be more playful, the central, minor-key fourth variation takes on an attractive dark colouring. The penultimate variation unveils a lyrical, wistful longing.
Drawing on themes from the same opera, the Nocturne by Camille Pleyel (son of the piano maker Ignace) and cellist Charles-Nicolas Baudiot is a charming confection.
EDWARD BHESANIA