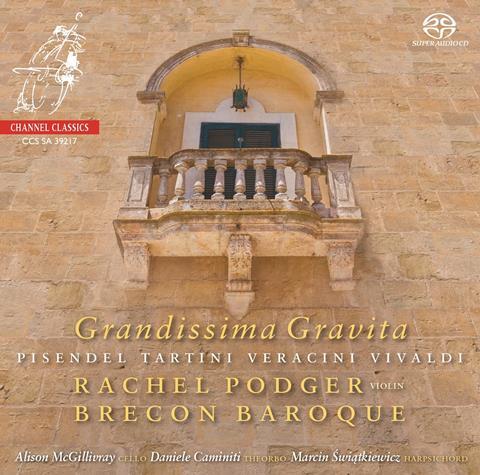 The Strad Issue: January 2018
Description: Drama and fantasy in music inspired by Corelli
Musicians: Rachel Podger (violin), Brecon Baroque
Works: PISENDEL Sonata in C minor for violin and harpsichord, TARTINI Sonata in A minor for violin and continuo op.2 no.5, VERACINI Sonata in G minor for violin and continuo op.2 no.5; Sonata in D minor for violin and continuo op.2 no.12 (Sonate accademiche), VIVALDI Sonata in A major for violin and continuo op.2 no.2
Catalogue Number: CHANNEL CLASSICS CCS SA 39217
This CD contrasts the sonata forms and styles of four violinist–composers who gained inspiration from Corelli's benchmark op.5 set. An amusing imaginary conversation between these composers is provided in the liner notes to explain some of the genre's 18th-century developments after Corelli. However, these performers' imaginative interpretations prove even more informative.
The disc's title is drawn from the marking for the violin's entry in the opening movement of Veracini's op.2 no.5. Podger and friends are faithful to both this movement's serious character and to Veracini's copious expressive notation, making much of the music's angular leaps and harsh intervals, which are recalled in the ensuing Capriccio.
Thematic recall also appertains to Veracini's op.2 no.12; the melody of the opening Passagallo is reprised in both succeeding movements, providing in the final Ciaccona a base from which Podger displays exhilarating virtuosity. Her accounts of the Vivaldi, Tartini and Pisendel sonatas are all turned with style, imagination and sensitivity and she introduces vibrato and extempore ornamentation freely. She is underpinned throughout by an excellent continuo team, as exemplified in her accounts of the opening movements of the Tartini and Pisendel works, which abound in dramatic gestures and spontaneous expressive fantasy. The recording is typically lucid, detailed and ideally balanced.
ROBIN STOWELL