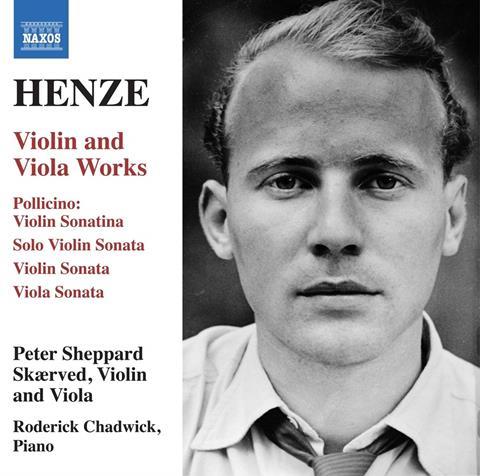 THE STRAD RECOMMENDS
The Strad Issue: November 2018
Description: Piquant and lyrical playing of some 20th-century violin and viola works
Musicians: Peter Sheppard Skærved (violin, viola), Roderick Chadwick (piano)
Works: HENZE Pollicino: Violin Sonatina; Violin Solo Sonata (1977); Violin Sonata (1946); Für Manfred; Peter Doll zum Abschied; Viola Sonata
Catalogue Number: NAXOS 8.573886
The Violin Sonata from 1946 shows the 20-year-old Hans Werner Henze still processing neo-Classicistic compositional schemes, but the substantial unaccompanied Sonata from 1977 introduces us to the composer's personal, consistently lyrical voice, not to mention his highly idiosyncratic way of writing for the instrument: unconventional double-stops and arpeggios abound, combined with col legno effects and occasional behind-the-bridge bowing.
From a relatively young age, Peter Sheppard Skærved belonged to a circle of musicians who worked closely with the composer. He has the measure of the music, albeit allowing himself considerable rhythmic freedom; following his performance of the (admittedly intricate) Solo Sonata, score in hand, can be quite disconcerting!
Sheppard Skærved is more disciplined in this respect when collaborating with the redoubtable Roderick Chadwick in the aforementioned, post-Hindemithian early Violin Sonata and the tuneful Sonatina from 1979, a charming piece based on music from the children's opera Pollicino (Tom Thumb).
He plays most expressively in two short unaccompanied pieces that Henze dedicated to deceased friends towards the end of the century. Arguably the most significant composition on this vividly recorded recital is the Viola Sonata written in 1978–79 for the young Garth Knox. Sheppard Skærved evinces a subtle ear for colours on the larger instrument, often employing unscripted harmonics and 'una corda' playing to fine effect.
He and Chadwick play throughout with an authority that bears witness to their long acquaintance with Henze's melodious muse.
CARLOS MARÍA SOLARE