Lyrical, colourful and dramatic album of Vivaldi's cello concertos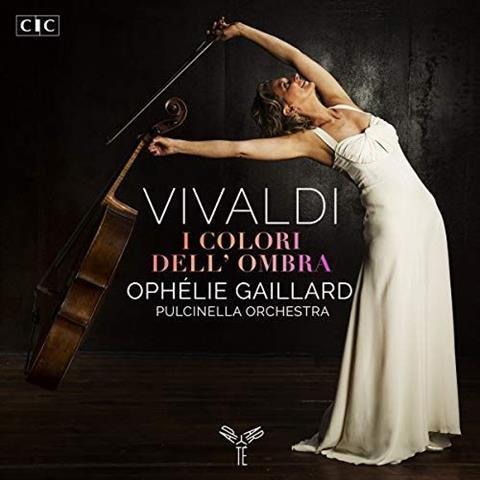 The Strad Issue: August 2020
Description: Lyrical, colourful and dramatic album of Vivaldi's cello concertos
Musicians: Ophélie Gaillard (cello) Lucile Richardot (mezzo-soprano) Delphine Galou (contralto) Pulcinella Orchestra
Works: Vivaldi: Cello Concertos: in G minor RV416, D minor RV405, A minor RV419 (Allegro) and B flat major RV788 (Larghetto); Concertos for violoncello piccolo in G major RV414 and B minor RV424; Concerto for two cellos in G minor RV531; Concerto for cello and bassoon in E minor RV409; Sinfonia in C major for strings and basso continuo RV112; Concerto for two violins and two cellos in D major RV575; Sovvente il sole (Andromeda liberate RV Anh117); Di verde ulivo (Tito manlio RV738)
Catalogue Number: APARTÉ AP226
Ophélie Gaillard and her creative team have fashioned an exciting sound world in this Vivaldi album, entitled The Colour of Shadows. Enhanced by the church acoustic and made richer by the variety of continuo instruments – the gentler sounds of harp, guitar, bassoon, organ and psaltery as well as the clatter of the harpsichord – the recording's colours feel more vivid, the texture has more depth and the works leap off the page with an infectious energy.
The concertos selected span Vivaldi's career, from his early G minor Concerto RV416 with its passionate flurries of semiquavers and episodic form to the more refined and elaborate late B minor Concerto RV424, whose slow movement has a dream-like quality in Gaillard's hands.
Gaillard plays her 1737 Gofriller cello, made in Vivaldi's Venice, for the majority of the concertos, its gut strings bringing subtle shades of expression to her stylish and impassioned playing. An anonymous Flemish five-string piccolo cello, slightly less full of tone, plays the high-range works.
It is an inspired idea to break up the concertos with two arias with virtuoso obbligato cello parts. Di verde ulvio shows Vivaldi's genius for drama, with the cello's rapid cross-string work under the lyrical vocal line portraying Vitellia's inner torment – you can practically feel her trembling.
JANET BANKS