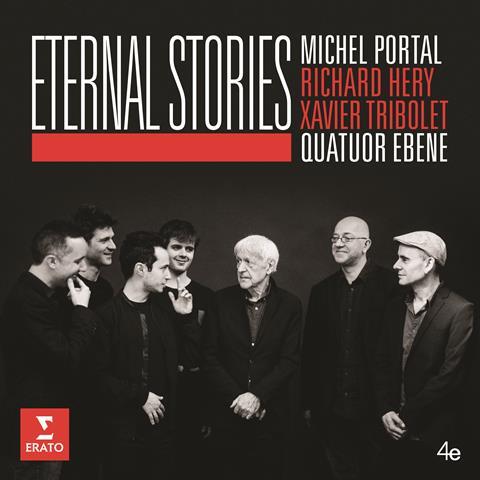 The Strad Issue: October 2017
Description: Elegant, catchy and highly accomplished jazz/string quartet fusion
Musicians: Michel Portal (clarinet, bandonéon) Xavier Tribolet (keyboards) Richard Hery (drums) Ébène Quartet
Composer: Piazolla etc.
Catalogue Number: ERATO 0190295839567
The Ébène Quartet has a dual studio career. In between recordings of Mozart, Mendelssohn and Schubert, this accomplished French foursome has delighted in creating crossover projects, starting in 2010 with Fiction, where it covered popular tracks, and continuing with Brazil in 2014. Working collaboratively with jazz, folk and world music artists has been a significant aspect of these ventures, and Eternal Stories is no different. On this substantial record (running to 68 minutes), the Ébène works with French clarinettist and composer Michel Portal on a set of pieces that conjures an amorphous night-time world, drawing from electro-jazz and improvisation, tango, and a film-music aesthetic.
The tone is rich, occasionally lustrous. Portal's evocative, sometimes catchy compositions dominate the early part of the record, before Piazzolla's Five Tango Sensations (on which Portal switches to bandonéon), where the ensemble moves in a more dance-led direction. The final pieces are a stylistic mix, including a rhythmically probing track by Ébène cellist Raphaël Merlin. Right across the repertoire, all recorded with perfect balance, the Ébène's swaggering sound sings forth, and there are solos from the string players as well as Portal and supporting rhythm section. It's an elegant album, and probably the Ébène's most mature contemporary record thus far. TIM WOODALL