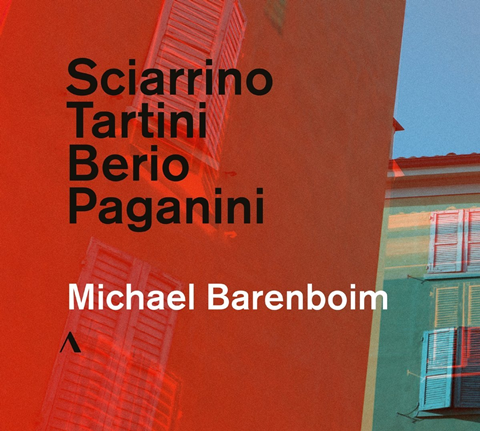 THE STRAD RECOMMENDS
The Strad Issue: April 2018
Description: Shimmering virtuosity and expressive power in solo Italian repertoire
Musicians: Michael Barenboim (violin)
Works: SCIARRINO Six Caprices; TARTINI Violin Sonata in G minor 'Devil's Trill'; BERIO Sequenza VIII; PAGANINI Caprices (selection)
Catalogue Number: ACCENTUS ACC30431
French-born violinist Michael Barenboim's second disc is, like his debut recording from early 2017, devoted entirely to unaccompanied works – but it's a world away from that earlier CD's somewhat rarefied world of Bach, Bartók and Boulez. Here Barenboim explores exclusively Italian repertoire, again contrasting the ancient and the modern, but bringing the music's astonishing sensuality and heady virtuosity firmly to the fore. What's truly remarkable, however, is Barenboim's effortless balancing of his sonic exuberance with a cool-headed accuracy and precision.
Both are there in his almost phantasmagorical Sciarrino Caprices, where he revels in the composer's wonderfully inventive, sometimes outlandish demands – stratospheric ricochets in the First Caprice, for example, or breathy tremolandos on the verge of inaudibility in the Second – while delivering the set with a sure sense of purpose and direction. The almost euphoric-sounding glissando explosions in Caprice no.4 contrast tellingly with Barenboim's glassy harmonics elsewhere in the piece. There's a similar unrestrained expressiveness in his Tartini 'Devil's Trill' Sonata, played very persuasively without continuo, and his selection of six of the Paganini Caprices are astonishing in their deft characterisation and cumulative power. There's a wonderfully raw edge to Barenboim's opening theme in the famous Caprice no.24, and an almost deranged sense of virtuosity to a declamatory Caprice no.17.
His Berio Sequenza VIII, too, is both assertively projected and uncompromising in its blunt power and pure, non-vibrato tone, yet is exquisitely detailed in its teased-apart textures. This recording is breathtakingly compelling, and one that's full of brilliant revelations, all captured in an appropriately full but focused acoustic.
DAVID KETTLE