Leah Hollingsworth tunes in to the Shriver Hall Concert Series (Discovery Series) on 6 March 2021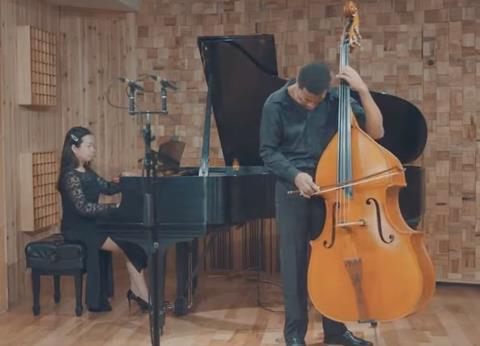 An entire recital by a double bassist is a rare gem, and Shriver Hall's presentation of the young virtuoso Xavier Foley was a delight. Vivaldi's Sonata no.3 in A minor for cello and continuo opened the programme, and Foley's superb articulation, clear sense of line and impressive palette of colours brought the piece to life.
The music of Iranian composer Ruhollah Khaleghi (1906–65) played a vital role in the relatively recent revival of Persian music; Foley said that he arranged Tasnif Khooshe Chin for double bass because of the lack of acceptance of Iranian culture in the US. He played it with zeal and commitment and added a virtuosic flair to the rhapsodic ballad. In a fantastic programmatic decision, the Khaleghi was followed by another new work – Irish Fantasy for solo double bass – by Foley himself, and the pictures these two pieces painted of the cultures they reflected were evocative and vivid. The Irish Fantasy was filled with ornamentation and double-stops and was performed exuberantly. Bach's D minor Suite for Solo Cello followed, a welcome antidote to the two modern works. Foley's sense of style and phrasing were exquisite – he chose tempos on the faster side for each of the first three movements but allowed them to breathe so organically that his sometimes extreme rubatos felt lovely (although some may argue that they were too much as they disrupted the overall sense of pulse). He ornamented the Allemande quite beautifully and the Sarabande was breathtaking.
Bottesini's Elegy no.1 in D major for double bass and piano followed the Bach, and with its lush melodies and textures, it was another programmatic winner. Foley played expressively with a not-too-wide but abundant vibrato. His approach to Saint-Saëns's Allegro appassionato for solo cello op.43 was one of playfulness and his performance was high-spirited and joyful, with elegant phrasing and clear direction. The recital finished with another of Foley's own compositions, Always on the Move for double bass and piano, a characterful work structured in three movements but clearly influenced by jazz as well as popular music. The heartfelt Andante was particularly captivating and the Allegro was bright and catchy, making a fantastic end to a phenomenal and expertly played programme.
LEAH HOLLINGSWORTH