Leah Hollingsworth hears the performance from the Shalin Liu Performance Center, as part of the 2021 Rockport Chamber Music Festival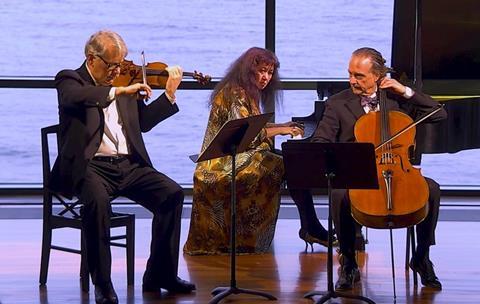 Han–Setzer–Finckel Trio
Shalin Liu Performance Center, Rockport, MA, US
17 September 2021
The Han–Setzer–Finckel Trio performed at the Rockport Chamber Music Festival with an intimacy that can only come from decades married or in a quartet together. Even through the screen their mutual trust and understanding of each other was palpable, and their ensemble was stunning: every articulation meticulously matched, sounds perfectly blended, crescendos built in impeccable partnership.
It was truly remarkable to hear these musicians play together in this formation. The Beethoven 'Ghost' Trio op.70 no.1 moved seamlessly from tenderness to youthful energy in the Allegro. The Largo was appropriately mysterious and haunting, played with passion and nuance. The final Presto was joyful to the extent that the performers were smiling and clearly delighting in both each other and the music, which was not just refreshing but inspiring and beautiful to behold: music as it should be.
Dvořák's 'Dumky' finished the programme and the opening Lento was breathtaking. While there were a few intonation issues in the Vivace of the second movement, the musicians captured the spirit wonderfully and the transitions between slow and fast tempos were elegant in every instance. The final Lento was both serene and serious, and while their interpretation of both these masterworks was not wildly imaginative, both pieces were performed with confidence, beauty, attention to detail, and terrific ensemble and balance, making for a deeply satisfying concert experience.
LEAH HOLLINGSWORTH