Peter Quantrill listens to the performance live from Stoller Hall, Manchester, on 8 April 2021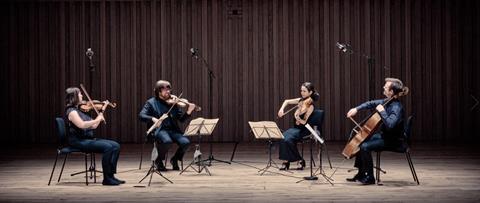 The Polyphonic Concert Club's charge of £95 for six chamber recitals filmed around the UK may look stiff, but subscribers got the nearest thing to a concert-hall experience streamed to their phone or computer, in high-definition sound and musically intelligent camerawork. There was every impression of live risk-taking about the Castalian Quartet's performance of a dense and demanding hour-long programme, beginning with the high contrasts imparted to Haydn's C major Quartet op.20 no.2. Cross-string arabesques flew off the bow of leader Sini Simonen, and the music's capacity for tension and surprise was stressed at the cost of some over-projection and tiny moments of rhythmic insecurity which only served in context to underline the sense of a one-off event as much as the stern unisons and vaulting improvisations of the second-movement recitatives.
Playing with the safety catch off also reaped dramatic rewards in Janáček – a fierce, fierily rhetorical account of the 'Kreutzer Sonata' Quartet to close – and in The Four Quarters of Adès. Now a decade old, this compression of a diurnal cycle seems destined to join the composer's Arcadiana as a modern classic of the repertoire, unnerving and satisfying in equal measure, eliciting a rare moment of peace from the Castalian in the opening 'Nightfalls' movement. The rhythmic complexity of the '25th Hour' finale was negotiated with self-effacing brilliance, the eerie Purcell-meets-Janáček sound world yielding to a closing D major chord of exquisite fragility.
PETER QUANTRILL