Intense and well-judged performances of music by British women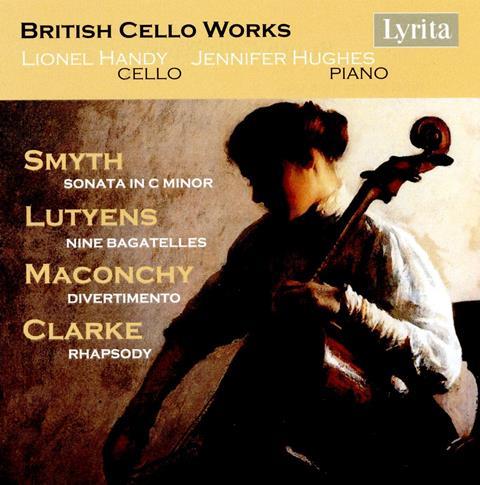 The Strad Issue: January 2020
Description: Intense and well-judged performances of music by British women
Musicians: Lionel Handy (cello) Jennifer Hughes (piano)
Works: Smyth: Sonata in C minor. Maconchy: Divertimento for cello and piano. Lutyens: Nine Bagatelles op.10. Clarke: Rhapsody for cello and piano
Catalogue Number: LYRITA SRCD383
This enterprising and well-recorded CD showcases four major British women composers. Their compositions span the latter years of the 19th century with Ethel Smyth's Sonata of 1880 to the first half of the 20th century with Elisabeth Lutyens's Bagatelles (1942) and Elizabeth Maconchy's Divertimento (1941–3).
The stylistic diversity is equally wide. Smyth's Sonata is cast in a conventional romantic mode. It is the largest-scale work on the disc, owing much to Brahms's musical language and structure, but also presenting an obvious reference to the main motif of Schubert's Arpeggione Sonata in the opening theme of the first movement. The music is skilfully crafted, and Lionel Handy and Jennifer Hughes ensure that all its nuances are fully explored. Similarly both artists highlight the merits of Rebecca Clarke's Rhapsody, its lyrical and rich vein of expression containing strong allusions to French impressionism. Once again the composer proves to be skilful in handling larger structural formats, with themes from the earlier movements reappearing in the Finale.
A more distinctive style is presented in the Divertimento by Elizabeth Maconchy. The opening Serenade, featuring Latin rhythms in mixed metres, is perhaps the most striking of its five movements, although 'The Clock' is also notable for offering a witty replication of the mechanics of the machine. Arguably the most individual of all the composers featured here is Elisabeth Lutyens. Her language is more acerbic, with close stylistic ties to Bartók and Schoenberg. The Nine Bagatelles are pithy, tightly constructed miniatures, and these artists carefully etch the motives to bring a real intensity to the work.
JOANNE TALBOT