Vivid portrait of a Stradivari viola demonstrates its special qualities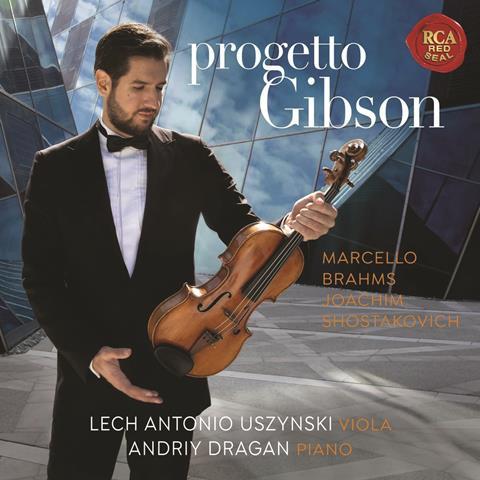 The Strad Issue: April 2020
Description: Vivid portrait of a Stradivari viola demonstrates its special qualities
Musicians: Lech Antonio Uszynski (viola) Andriy Dragan (piano)
Works: Marcello: Cello Sonata in G major (arr. Gibson). Brahms: Viola Sonata in E flat major op.120 no.2. Joachim: Hebrew Melodies op.9. Shostakovich: Viola Sonata op.147
Catalogue Number: RCA RED SEAL 19075982842
George Alfred Gibson (1849–1924) was an influential London violinist who taught at the Royal Academy of Music and the Guildhall School of Music. He also played the viola in the Joachim Quartet's London iteration, and through Joachim he came to meet Brahms. Gibson owned a viola made by a nonagenarian Stradivari in 1734, which now belongs to the Stradivari Foundation Habisreutinger. For this CD Lech Antonio Uszynski, who had the use of this instrument for several years, has gathered together pieces loosely related to Gibson's musical circle.
In Marcello's Sonata (played in Gibson's transcription), Uszynski's delicate tone production delightfully evokes the silvery sounds of a viol. Brahms's Sonata is performed in the composer's reluctantly sanctioned viola version, which includes many downward transpositions from the original for clarinet. In spite of many moments of great beauty, I can't help wishing Uszynski had taken some of the higher options, especially considering how beautifully the 'Gibson' soars up on the A string!
Joachim's Hebrew Melodies are an original composition for viola that plays to the instrument's expressive potential, and Uszynski does them full justice, unstintingly pouring forth sonorous tones of the darkest hue. Although Shostakovich's Viola Sonata op.147 doesn't belong in the world of the 'Gibson', it certainly brings the instrument's lyrical qualities effectively to the fore, as Uszynski forcefully demonstrates. Andriy Dragan is a congenial partner throughout this well-planned and vividly recorded recital, and the booklet includes numerous pictures of its undisputed protagonist, the 1734 'Gibson' Strad.
CARLOS MARÍA SOLARE