A review of two CDs: exuberant explorations of Eastern European and contemporary music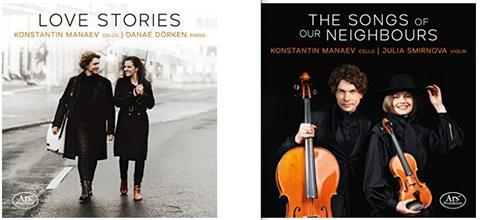 The Strad Issue: July 2022
Description: Exuberant explorations of Eastern European and contemporary music
Love Stories
Musicians: Konstantin Manaev (cello) Danae Dörken (piano)
Works: Piazzolla: Le grand tango; Ave Maria. Doderer: Break on Through. Hamilton: Romeo and Juliet in Sarajevo. Kapustin: Burlesque; Elegy; Nearly Waltz
Catalogue number: ARS 38597
The Songs of Our Neighbours
Musicians: Julia Smirnova (violin) Konstantin Manaev (cello)
Works: Sviridov: Ural Tune; Time, forward!; Chastushka. Doderer: Volcano. Kodály: Duo. Sadikova: For Stradivari. Kukal: Present
Catalogue number: ARS 38587
The irrepressible force behind this pair of CDs, recorded in two warmly sounding Berlin locations, is cellist Konstantin Manaev, whose larger-than-life personality comes across strongly both as recitalist and chamber music partner. His adventurous choice of repertoire focuses on music written this century. The two works by Ástor Piazzolla that bookend the piano-accompanied recital Love Stories are only slightly earlier, dating from the 1980s. In Le grand tango, written for Rostropovitch, Manaev and Danae Dörken kick up a riot of rhythm that doesn't let up until the orgiastic end. Their arrangement of Ave Maria explores the cello's full range and allows Manaev's lyrical vein to burgeon freely.
Nikolai Kapustin's jazzy effusions receive toe-tapping readings that sound – as they should – improvised, ending with a scale of natural harmonics from Manaev that disappears off the cello's fingerboard. At the recital's centre is a heart-rending tone poem by Gordon Hamilton, inspired by a pair of star-crossed lovers killed during the Bosnian War. Hamilton's tonal language finds great heights of expressivity that are gratefully seized upon by both players, who also relish the composer's allusions to Balkan folk music. Johanna Doderer composed Break on Through 'freely after Jim Morrison', employing the singer's rhythmic structures as the basis of a piece that develops an overwhelming momentum, unbroken by several cello cadenzas, before reaching a somewhat tongue-in-cheek ending.
The companion album finds Manaev in duo with his wife, violinist Julia Smirnova. As its title suggests, it gathers music from Eastern Europe, appropriately beginning at its furthest end, the Ural region – from where the cellist hails. Folkloristic strains are much to the fore throughout the programme, which has Kodály's Duo as its monumental centrepiece. If its characteristic rhythms occasionally sound too literal in their hands, Smirnova and Manaev are attentive partners, as their coordinated vibrato and well-paced cadenzas demonstrate. Doderer's Volcano, originally written as a solo for Manaev, has been arranged as a duo for the pair, who again evince great unanimity of conception. After Aziza Sadikova's timbric explorations, this enterprising programme is completed by the Czech inflections of Ondřej Kukal's Present and a short envoi from Georgy Sviridov, whose energetic music had started the journey, neatly wrapping things up.
CARLOS MARÍA SOLARE