Originality and imagination characterise this first-class solo Bach album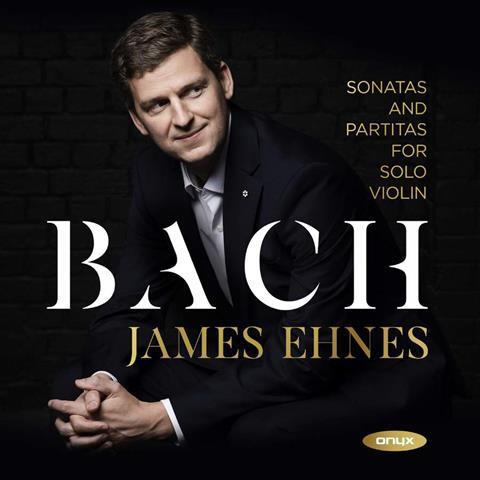 The Strad Issue: February 2022
Description: Originality and imagination characterise this first-class solo Bach album
Musicians: James Ehnes (violin)
Works: BACH Solo Sonatas and Partitas BWV1001–1006
Catalogue number: ONYX 4228
In June of last year James Ehnes, becalmed by the pandemic, turned his home into a studio and recorded Ysaÿe's Sonatas and Bach's Sonatas and Partitas. The Ysaÿe disc is out in the world (reviewed July 2021), and here is its companion. Much of this is hearty, forthright Bach, playing to fill a big hall, with what seems an acoustic to match. But not all of it, by any means. The opening Adagio of the first Sonata is pure-toned, spacious and meditative. The fugue comes as an assertive contrast, with bold colours, building constantly toward great power. Ehnes skilfully dovetails the voices of the Siciliana, producing a wistful dialogue, and the finale Presto races along.
The Allemanda of the First Partita is severe, and its Double simple and graceful. In the Corrente, as so often, he simply does what it says, albeit with infinite finesse and subtle shaping. In the Double he is again very fast, and non-legato – it has a devilish whiff to it. The Tempo di Borea is punchy and dynamic, an open-hearted dance. After the serenity of the Grave which opens the Second Sonata the Fuga has full-blooded tone, with punched double-stops. He is emphatic. The veiled, silken tone of the Andante is balm after the fugue.
In the epic Ciaccona of the Second Partita he crafts the first great span with wonderful inevitability, building power and tonal richness before giving way to tenderness as the music shifts to D major. The Fuga of the C major Sonata mixes light and shade, creamy legato and dramatic emphasis, in a great eloquent whole. The Preludio of the Third Partita is steadier than some, the playing clean and precise. The dances that follow have courtly elegance.
TIM HOMFRAY