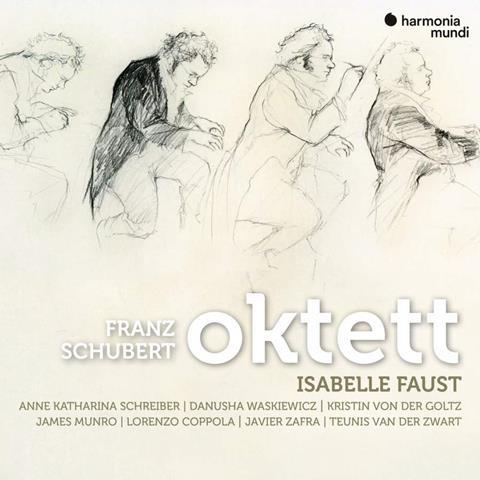 THE STRAD RECOMMENDS
The Strad Issue: November 2018
Description: Magnificent playing from a tight-knit period ensemble
Musicians: Isabelle Faust (violin), Anna Katharina Schreiber (violin), Danusha Waskiewicz (viola), Kristin von der Goltz (cello), James Munro (double bass), Lorenzo Coppola (clarinet), Teunis van der Zwart (horn), Javier Zafra (bassoon)
Works: SCHUBERT Octet in F major, Five Minuets with Six Trios (arr. Strasnoy)
Catalogue Number: HARMONIA MUNDI HMM 902263
All the players here, except the violist, are associated with the Freiburg Baroque Orchestra. As so often with period instrument performances, one of the most striking features of this recording is clarity of texture.
Thus Isabelle Faust's busy semiquaver figurations in the opening Allegro of the Octet, rather than being the most prominent feature – as they so often can be – provide filigree decoration and a sense of movement amongst the wind. Throughout, there is crispness of attack and rhythmic élan.
Clarinettist Lorenzo Coppola's playing at the opening of the Adagio is magical, a magic held until the music shifts to G flat major and the sound warms delightfully. The little passage leading back to the opening melody has a wonderful improvisatory quality.
The staccato notes at the opening of the Allegro Vivace third movement and the multiple accents snap terrifically. In parts of the Andante there is a vibrato-free violin playing sounds like a glass harmonica.
Faust scampers splendidly through the moto perpetuo demisemiquavers of the seventh variation. After the easy charm of the Menuetto the menace at the opening of the Finale is heightened by touches of ponticello playing, before they launch into the exuberant Allegro. This is a magnificent performance, aided by the excellent balance of the recording.
TIM HOMFRAY