Much to discover in searching versions of two great late-Classical quartets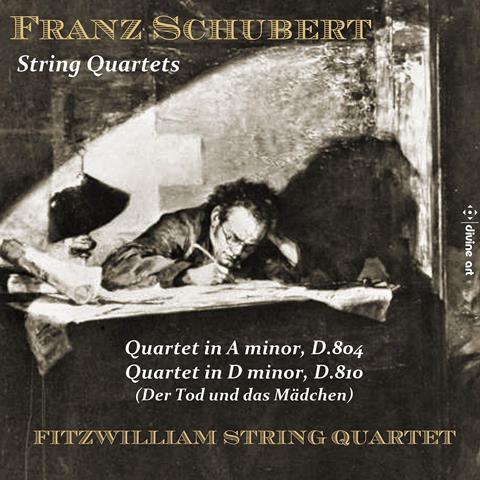 The Strad Issue: May 2020
Description: Much to discover in searching versions of two great late-Classical quartets
Musicians: Fitzwilliam Quartet
Works: Schubert: String Quartets: in A minor D804, in D minor D810 'Death and the Maiden'
Catalogue Number: DIVINE ART DDA25197
Significant research has gone into this recording of Schubert's two most songful quartets from an ensemble celebrating 50 years, the Fitzwilliam Quartet. The booklet itself is rich in its charting of the ensemble's journey to reconcile matters of markings, sound production, tempi and not least equipment (they settled on their own Italian instruments strung with Viennese gut). It even includes an afterword from Professor Brian Newbould, who graciously admits that there is not much left to say following Alan George's absorbing eight-page essay.
The performances are best taken in the spirit of the ensemble's own journey of discovery. Internal balance and intonation can waver and this song-driven music's architectural exposure of Lucy Russell's first violin suggests that the organic strings, new bow holds and sparing use of vibrato are being caught fresh rather than settled.
But the grainier and (counter-intuitively) heavier sound sets off the counterpoint in D804 well, the performance possessing more roughness and readiness than sureness of touch. The same qualities give 'Death and the Maiden' the all-important feeling of an inevitable slide into despair despite a full-on fight. This is the first time the ensemble has tackled the piece, which has its pluses and minuses. The variations are unusually searching, suggesting not only the eagerness of a first immersion in their world but also that it's the movement they spent the most time on. It also carries them through to a fearless, raw Scherzo and Presto in which few of the constraints of before are apparent and real emotional tension sets in. A close but clear in-the-round recording puts listeners right in the middle.
ANDREW MELLOR