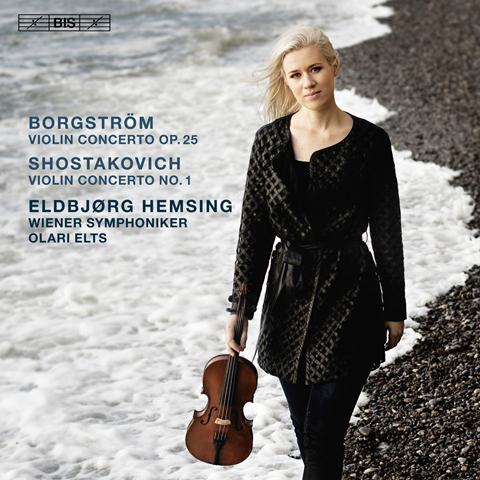 The Strad Issue: May 2018
Description: Intense Shostakovich and a Norwegian concerto discovery
Musicians: Eldbjørg Hemsing (violin), Vienna Symphony Orchestra/Olari Elts
Works: BORGSTRÖM Violin Concerto in G major op.25, SHOSTAKOVICH Violin Concerto no.1 in A minor op.77
Catalogue Number: BIS 2366
The Norwegian composer Hjalmar Borgström was famous in his day but quickly fell into obscurity, his music bedded in the Germanic 19th century and considered old-fashioned and 'not Norwegian enough' at the beginning of the 20th. His compatriot Eldbjørg Hemsing wants to bring him back to notice, and makes a good start with this powerful performance of his 1914 Violin Concerto.
It is a gorgeous, open-hearted piece, full of flowing lyricism, to which she brings warm and beautiful playing. Her phrasing is supple and nuanced, flecked with neat little touches of vibrato and variations of dynamic. The central Adagio is far-ranging, moving from musing opening to a jaunty central section, and on to something more torridly passionate before leading straight into the dancing finale. Hemsing deftly handles all the transitions.
It is a bit of a gear-change from Borgström to austere Shostakovich (Bruch would have worked nicely). Hemsing weaves steadily and unfussily, but with increasing emotional intensity, to the climactic double-stops of the first movement. In the Scherzo she plays with an edge of violence, biting and snapping. The orchestra matches her vivid playing, but the recording sets it in the background, in a resonant acoustic. She is as fine in the third movement as the first in progressively ratcheting up the tension before easing down into the cadenza, which in its turn grows steadily to a searing climax. The finale scuttles along brilliantly.
TIM HOMFRAY