Brahms on gut strings presents a more supple, slimline side to the composer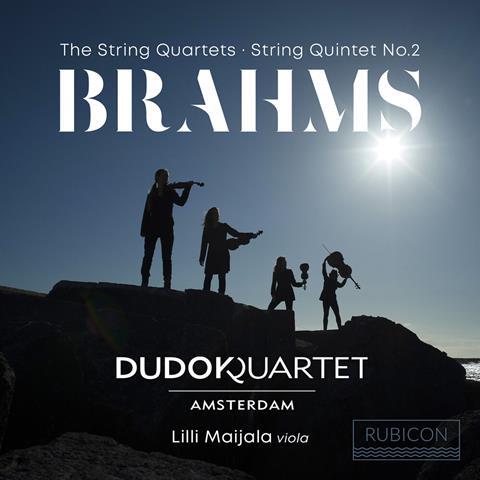 THE STRAD RECOMMENDS
The Strad Issue: January 2022
Description: Brahms on gut strings presents a more supple, slimline side to the composer
Musicians: Dudok Quartet Amsterdam, Lilli Maijala (viola)
Works: Brahms: String Quartets: no.1 in C minor op.51 no.1, no.2 in A minor op.51 no.2, no.3 in B flat major op.67; String Quintet no.2 in G major op.111
Catalogue number: RUBICON CLASSICS RCD1077 (2 CDs)
Some may balk at the prospect of hearing Brahms's works divested of their customary modern tonal richness; but the leaner sonorities of the Dudok Quartet Amsterdam's gut-strung set-ups and this ensemble's exploration of late 19th-century performance practices prove enlightening in many ways, particularly in making more lucid the luxuriant textures of, for example, the opening movement of the Second Quintet (the second theme of which, incidentally, suffers an apparent aberration in the accompaniment on its first playing) and the quasi-symphonic outer movements of op.51 no.1. These players' espousal of tempo flexibility is also telling throughout, particularly in shaping phrases and delineating significant structural, harmonic or dynamic detail; indeed, such elasticity and the introduction of portamento might with advantage have been developed further, along with the cultivation of more varied vibrato colourings and even more historically informed exploitation of their period bows.
Assisted by a vivid and immediate recording, these performances are searching and artistically satisfying, combining freshness, polish, warmth and spontaneity with well-integrated detail, excellent balance and blend and immaculate ensemble. The Dudoks give warm, eloquent accounts of both op.51s, responding to these works' dramatic fervour and lyrical flow in equal measure.
Tempos are well judged, especially those of op.51 no.1's Allegretto, which is often played too slowly, and the Second Quintet's finale, and the Dudoks realise the sophisticated phrase lengths and modulations of op.51 no.1's melodious Romanze, negotiate the various metrical changes in, for example, the third movement of op.51 no.2 and the opening Vivace of op.67, and characterise the variation-form finale of op.67 with commendable subtlety and finesse.
ROBIN STOWELL