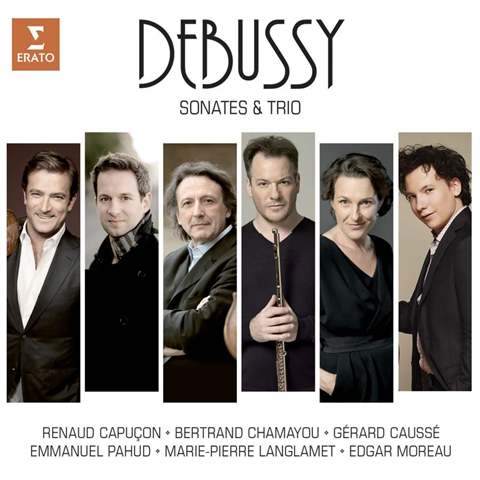 The Strad Issue: April 2018
Description: A Debussy anniversary tribute to have and to hold
Musicians: Renaud Capuçon (violin), Bertrand Chamayou (piano), Gérard Caussé (viola), Emmanuel Pahud (flute), Marie-Pierre Langlamet (harp), Edgar Moreau (cello)
Works: DEBUSSY Cello Sonata in D minor; Syrinx for solo flute; Violin Sonata in G minor; Sonata for flute, viola and harp; Piano Trio in G major
Catalogue Number: ERATO 0190295773960
'Claude Debussy, musicien francais' is how Debussy signed off his Violin Sonata of 1917, the last of three 'sonatas for various instruments' he composed against a dual-horror backdrop of the Great War and the cancer that would claim him the following year. These four works, then, represent a poignant melange of nationalist distress and personal epitaph, and of all Debussy's output, the sonatas do indeed feel like works designed for French fingers. And certainly there's a palpable sense of 'labour of love' across this all-French line-up's programme, which presents the sonatas alongside the Piano Trio for the first time, and also Syrinx.
It's hard to pick highlights in the face of such back-to-back excellence. However, I will zero in on two. First, the Violin Sonata, which appears here in warm, rich form, by turns joyous and anguished – from an impassioned Capuçon drawing out the full glories of his 'Panette' Guarneri 'del Gesù' violin's velvety, dark lower registers and piercingly sweet uppers, and all with melting technical fluidity. Add Chamayou's sensitive partnering, and for me this is a new benchmark idiomatic reading to sit with the very different Menuhin–Britten one on my personal top spot.
Secondly, the Sonata for flute, viola and harp, which along with Pahud's exotically curling Syrinx was recorded not in the Studios Davout with the rest of the disc, but instead in the airier acoustic of Paris's Salle Colonne: a beautiful decision that accentuates the luminously tactile sound world of these artists' polished, nostalgia-toned interpretation.
CHARLOTTE GARDNER