There were fewer string performances than usual on the programme of 2019's Edinburgh festivals, but the quality of those was often superb, reports David Kettle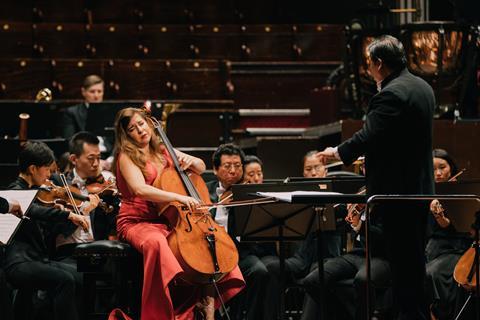 You could hardly claim that 2019 was a particularly strong year for strings across the Edinburgh festivals, but glinting in among everything else were a few undeniable string gems. One that gleamed especially brightly as part of the Edinburgh International Festival was a three-concert survey at St Cecilia's Hall of Biber's Rosary (Mystery) Sonatas from violinist Rachel Podger, using – well, quite a collection of Baroque violins, all tuned differently according to the composer's elaborate scordatura requirements. It was a gloriously rewarding trio of recitals (6, 8 and 9 August), in which Podger's enthusiastic but down-to-earth explanations of technical challenges and musical symbolism contrasted beautifully with the mystical, visionary music itself. Podger delivered lithe, vividly characterised performances, often intentionally effortful as she grappled with the composer's increasingly outlandish demands, with graceful support from Marcin Świątkiewicz on the harpsichord and the organ and Daniele Caminiti on the theorbo.
Equally clean, clear and direct was Finland's Meta4 string quartet, in town for a Queen's Hall recital (13 August) that gratifyingly included music by two women composers. The E flat major Quartet by Fanny Mendelssohn received a restless, intensely emotional performance that seemed intent on demonstrating the work's seriousness of purpose – laudable, perhaps, but it made for tiring, demanding listening. Just as hard-driven was Meta4's closing Schumann A major Quartet op.41 no.3, but between came a wonderfully lyrical account of the players' compatriot Kaija Saariaho's Terra memoria, exquisitely balanced and conjuring the music's strange magic beautifully. It was as though the microscopically nuanced playing the Meta4 musicians had used elsewhere had found its rightful home here.
Across town at the Usher Hall (19 August), US cellist Alisa Weilerstein proved a fascinating counterpart to an all-Chinese line-up of the Shanghai Symphony Orchestra under Long Yu in Dvořák's Cello Concerto. Weilerstein offered a hot-headed, supercharged account, forcefully projected with a narrow, intense vibrato and reedy tone, and it stood out magnificently against the smooth sheen of the orchestra's gently gleaming sound – its velvety strings were particularly memorable. Soloist and conductor were at one in their lavish rubato – it felt like almost every phrase was pulled around in one direction or another; and while the slow movement could probably have done with a touch more tenderness, the swelling, surging lines of Weilerstein's hearty finale brought the music to a vigorous and passionate conclusion.
You can't talk about Edinburgh in August without mentioning the Edinburgh Festival Fringe, and special recognition should go to the Russian String Orchestra under conductor Misha Rachlevsky for sheer hard work, giving upwards of three concerts a day across different Fringe venues. For their afternoon show, gamely titled Misha's Gang, they cycled four different programmes of repertoire mixing well-worn lollipops with far more demanding fare – think Schoenberg's Verklärte Nacht or Prokofiev's Visions fugitives. And while there were undeniable rough edges in the playing of this 14-piece ensemble of young musicians (hardly surprising, given the enormous quantity of repertoire they churned out every day), there's no mistaking its verve, gusto and sheer enthusiasm – which at the Edinburgh Festival Fringe can often carry the show entirely.
Photo: Ryan Buchanan