Peter Quantrill hears three concerts at different London venues at the start of November 2020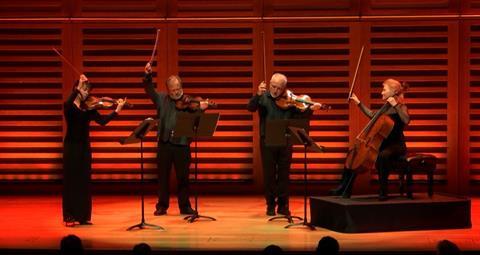 Brodsky Quartet
Kings Place, 3 November 2020
Albion Quartet
Wigmore Hall, 4 November 2020
London Philharmonic Orchestra
Royal Festival Hall, 4 November 2020
At Kings Place, the Brodsky Quartet rounded off its late-Beethoven series with op.130. Preceding the quartet with a suitably introverted account of Purcell's G minor Chacony served to underline certain antique qualities in the Beethoven that sometimes go underappreciated. It also lightened the alien landscape of the first movement, adding 18th-century character and conventions.
Perhaps the movement's climax lacked a degree of precision and intensity – the chilly mood of a socially distanced hall can't have helped – but as in Schubert's song cycles there is a place for a performance that uncovers the composer's strange, new directions afresh. The Brodskys found a brittle elegance in the second movement's twitching moto perpetuo, and only gradually did the Andante outgrow a Biedermeier gentility, which prevailed in the Alla danza tedesca and the Haydnesque pleasantries of Beethoven's second finale.
At Wigmore Hall the Albion Quartet presented an even more apposite pairing, opening with the most sombre of Haydn's op.20 quartets in the notably tragic key of F minor, inflected by leader Tamsin Waley-Cohen and her colleagues with a stylistically sure touch of dappled sun and shade, even in the pathos-laden gestures of the Minuet. Brahms, too, knew something about smiling through tears, and while the Albion's vibrato widened for the B flat major Quartet op.67, their essentially Classical approach took an especially intimate address to what should feel like music overheard; Ann Beilby's viola led the suppressed melancholy of the inner movements.
With the UK entering a second lockdown in November, orchestras turned to their front desks for soloists. The first concerto of Vivaldi's La stravaganza op.4 lacked nothing for Italianate fire and brilliance from a spatially separated LPO, while leader Pieter Schoeman imbued the solo line with a glamorous extroversion. Concerto grosso values of collective virtuosity were more prominent in Thomas Larcher's phantasmagorical Ouroboros (2015), with principal cellist Kristina Blaumane articulating the restless circularity of Larcher's narrative.
PETER QUANTRILL