Peter Quantrill hears the performance of Beethoven and Widmann at LSO St Luke's, London, on 12 March 2022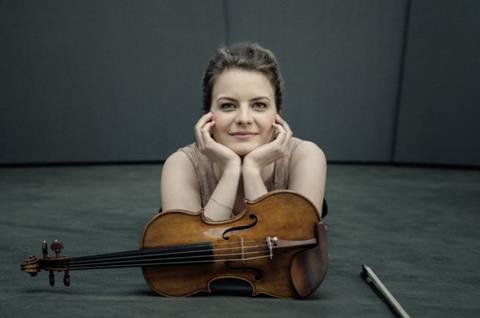 Before the Beethoven anniversary of 2020, which of us could say they knew Beethoven wrote two violin concertos? Or at least intended to – he apparently abandoned a C major first movement in mid-air around the time of writing the Second Piano Concerto. Cushioned by a slimline but still rich LSO string tone, expanding to fill LSO St Luke's, the eight-minute fragment flowed with practised Mozartian ease except for certain giveaway Beethovenian harmonic thumbprints.
Veronika Eberle brings a spotlessly pure and serene tone to her Beethoven playing, as I recall from a memorably spacious account of the D major Concerto which she gave with Rattle six years ago. This reprise was longer still, not on account of their tempos – which have tightened up slightly while still projecting remarkable breadth and calm – but through the bold and exploratory new cadenzas commissioned from Jörg Widmann.
The mood of the vast cadenza for the Allegro begins by taking its cue from the G minor episode where Beethoven not only introduces a sublime element but also derails the unruffled D major progress of the movement. Then Widmann introduces not only the timpani that Beethoven had smuggled into his own cadenza for his piano-concerto transcription of the concerto, but also a double bass. The cadenza quotes not only from the first movement but also the finale, contriving to sound fully like both Beethoven and Widmann, as do similarly wide-ranging insertions in the other movements.
Still hand in glove in their approach, Eberle and Rattle brought a numbed stillness to the Largo, into which Widmann's uncanny, ethereal cadenza dovetailed quite naturally, developing into a dialogue with the LSO's leader. The finale brought more war-music as well as tavern-band humour in the return of the double bass. When the LSO Live album of the concert appears, it should make for essential listening.
PETER QUANTRILL