Bruce Hodges attends the recital performance at New York's Carnegie Hall on 4 Noember 2021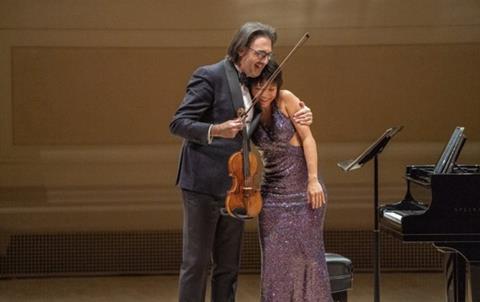 Some years ago, the rapport between Leonidas Kavakos and Yuja Wang blossomed into intense and memorable music making. This unexpectedly introspective concert was no exception.
Bach's Violin Sonata in E major BWV1016 was crystalline in its joy, with the two artists intertwining in quiet synchronisation. Kavakos dampened his vibrato – still present, but unobtrusive. And Wang, though known for her virtuosity in the most challenging repertoire on the planet, made an elegant collaborator.
The rarity of the evening was Busoni's Second Violin Sonata (1901), a fascinating half-hour filled with muted shadows. Following the sombre piano introduction, the violinist's broad strokes evoked an old film score. Near the end of the high-energy Presto, an unexpected pause prompted the audience to erupt in premature applause – and a good-natured finger-wagging from Kavakos. In the final movement, when a slightly demonic march appeared before some bravura passagework, the violinist's bow was in perfect vertical alignment.
To close the programme proper came Shostakovich's Violin Sonata (1968), with both artists underlining the mournful ambiguity that makes much of the composer's work so compelling. Most notable was the striking sequence of pizzicatos near the end, pinging off the Carnegie Hall walls.
As an encore, the fifth-movement 'Dithyrambe' from Stravinsky's 1932 Duo Concertant continued the languid mood. As was the case all evening, the duo continued to eschew outright fireworks in favour of more subdued emotions and, ultimately, more profound messages.
BRUCE HODGES
Photo: Stephanie Berger