Leah Hollingsworth hears a collection of new works at the Merkin Concert Hall on 21 October 2021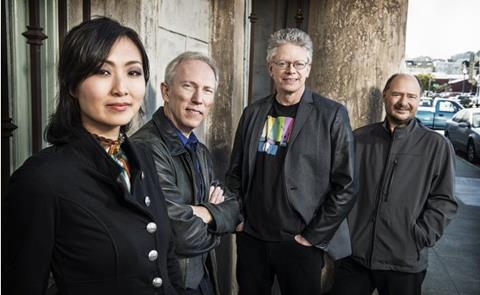 This programme featured music from the Kronos Quartet's 'Fifty for the Future' project, an education and legacy project in which Kronos is commissioning – and distributing online for free – 50 new works from composers around the world. Charlton Singleton's Testimony (2019) was powerfully performed by the Special Music School Quartet, opening the concert with a moving violin solo joined by the viola in octaves before transitioning into a jazzy, rhythmic section complete with stomping and clapping, reminiscent of a church camp meeting. Trey Spruance's work Séraphîta (2016) followed, performed by the Kodak Quartet of the Cali School of Music from Montclair State University. The meditative opening of the first movement gave way to a percussive second movement which included ankle percussion and terrific rhythmic energy.
Kronos took the stage with the first of three world premieres of the evening: Peni Candra Rini's Maduswara (2020), which included a backing track of forest sounds – crickets, bullfrogs, a rainstorm. Kronos's ability to transport the audience into the rainforest so effectively with the track and a few well-played harmonics, ponticello, glissandi, and pizzicato was extraordinary. Unpredictable rhythms were both jarring and strangely calming – like nature itself. Inti Figgis-Vizueta's branching patterns (2021), another world premiere, included all manner of extended techniques; the Kronos found structure and simplicity within a cacophony of sound and complicated texture. Sky Macklay's scalar and rhythmic work Vertebrae was clever and creative, and the Kronos played with familiarity and elegance.
The versatility of the Kronos players shone throughout the programme, but was perhaps the most evident in the final world premiere of the evening, Aruna Narayan's Mishra Pilu (2020), in which they beautifully embodied classical Indian tradition. Their ability to inhabit completely different musical and cultural worlds within minutes of each other betrays the Quartet's depth of study, musical and technical prowess, and devotion to a variety of musical cultures and styles. Next was a piece by the electronic producer Jlin, Little Black Book (2018), which took the listener yet again to an entirely different auditory world. Philip Glass's Quartet Satz concluded the evening, and the Kronos invited on stage the two groups that had performed earlier as well as other students they had been working with in the preceding week. The ensemble created a cushion of sound, delicate and dazzling, and the group effort encapsulated what the Kronos wants to offer young quartets: a present invitation into music for the future.
LEAH HOLLINGSWORTH
Photo: Jay Blakesberg