Bruce Hodges hears the performance at Tenri Cultural institute, NY, on 22 March 2019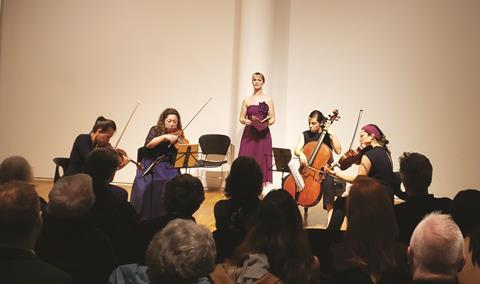 Although one could imagine Carrot Revolution as a new vegan initiative, in this case it is the title of Gabriella Smith's sparkling 2015 opus, commissioned by the Philadelphia-based Barnes Foundation for the Aizuri Quartet (right). It also appears on the group's Grammy Award-nominated debut album, Blueprinting, released in December 2018.
Smith's infectious essay combines scratchy rhythms and spunky pizzicatos with wood slaps from the cello. Microtonal sighs create harmonic complexity, and the whole thing eventually winds down like an itinerant machine coming to rest.
Based on the words of Brené Brown, the four sections of Evan Premo's String Quartet no.1 'Deeply Known' (2018) explore vulnerability. Its (mostly) peaceful iridescence is engaging, including a reference in the third movement to the popular gospel tune from the 1920s, This Little Light of Mine.
But the climax of the Aizuri players' incisive concert (for a rapt crowd in the gallery-style space of Tenri Cultural Institute) came with Schoenberg's String Quartet no.2. Despite some precarious intonation at the start, the result was ultimately cathartic, with soprano Mary Bonhag in passionate form in the last two movements.
In between came a palate-cleanser of sorts, Komitas Vardapet's charming Armenian Folk Songs, given verve and melancholy. The final 'Kaqavik' (The Partridge) mimicked the title bird, and showed the Aizuri at its most sensitive and delicate.
BRUCE HODGES
Photo: Donna Breitzer