Julian Haylock examines a unique collection of musical autographs, including such string players as Paganini, Alard and Franchomme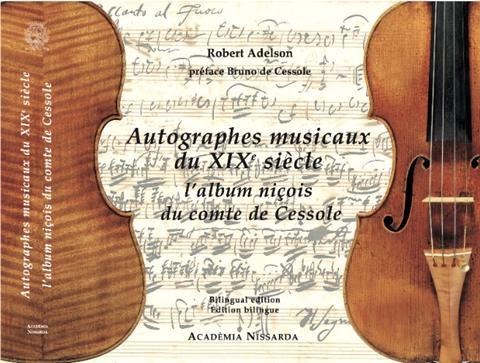 Nineteenth Century Musical Autographs: the Niçois Album of the Count of Cessole
Robert Adelson
320PP ISBN 9782919156047
Academia Nissarda €40
The musical riches contained in this unique collection go way beyond the normal parameters of popular memorabilia. This is due entirely to the astute thinking of the noted 19th-century collector of Cremonese violins, Eugène de Cessole (1805–76), whose autograph album is the focus of this handsomely produced tome. His distinguished guest list reads like a veritable Who's Who of Romantic music – violinists especially – who were not only asked to sign their moniker in the normal way, but also invited to add a handwritten musical souvenir. These range from tantalising musical fragments lasting just a few bars – in the case of celebrated tenor Jean-Alexandre de Talazac, simply his trademark high C, annotated to be sung 'with a real chest voice' – to complete pieces.
The roll call of composers alone is reason enough to invest in this lavishly illustrated collection. Liszt signs himself off in style with a musical flourish from his chromatically rampant Omnitonic Prelude – virtually every note carries an accidental – Verdi a few bars from Act II of La traviata, and Berlioz a meticulously inscribed excerpt from his symphony Roméo et Juliette. Other featured composers include Donizetti, Glinka, Gounod, Mendelssohn (whose musical autograph Cessole obtained through an intermediary), Meyerbeer, Offenbach and Rossini.
However, it is the long list of string players that makes this volume of essential interest to readers of The Strad. Violinist Charles de Bériot contributes ten bars for violin and piano that turn the seven letters of Cessole's name into a repeated G motif; Louis Spohr a canon in two voices; Camillo Sivori 24 bars in march style for solo violin that is almost entirely triple-stopped; Antonio Bazzini eleven bars of Allegro vivace for the G and D strings (involving some precariously high-wire broken octaves); Henry Vieuxtemps four bars of an Andante Preludio inscribed to Cessole as 'tender souvenirs'; Heinrich Ernst an unpublished variation on the Carnival of Venice; Ole Bull an excerpt from his Polacca guerrira, and Nicolò Paganini (a close friend of the family) two full pages of manuscript featuring the only surviving copy in the composer's hand of his finger-crippling Introduction and Variations on 'Non più mesta' from Rossini's La Cenerentola.
There are also contributions from violinists Charles Philippe Lafont, Jean Becker, Vasily Bezekirsky, Jean-Delphin Alard (an unpublished variation characterised by rapid leaps), Guido Papini, Hubert Léonard, Alexei Lvov (a palindromic canon), Alexandre Artôt (twelve bars of solo violin agitato entitled The Storm), and the prodigy sisters Julia and Juliette Delepierre. There are cellists Alexandre Batta, Auguste Franchomme (sixteen bars of an easy flowing, triple-time Andante for cello and piano) and Prosper Seligmann, and legendary double bassist Giovanni Bottesini (the theme from his infamous Tarantella in A minor).
In addition to the 108 musical autographs, the volume is generously illustrated throughout, accompanied by meticulously researched annotations by Robert Adelson (presented in French and English). It also includes a fascinating essay outlining the background to Cessole's volume of autographs and his priceless collection of instruments, most notably the 1716 'Cessole' Stradivari, and two by Guarneri 'del Gesù': the 1732 'Ferni' and the 1736 'Comte de Cessole'.
JULIAN HAYLOCK