Davina Shum reviews the latest collection of duets for string players from Celia Cobb and Naomi Yandell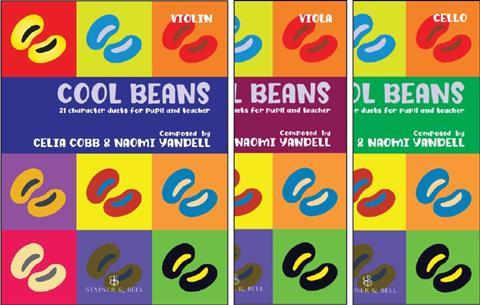 Cool Beans
Celia Cobb and Naomi Yandell
Violin: 32PP ISMN 9790220228025
Viola: 32PP ISMN 9790220228032
Cello: 32PP ISMN 9790220228049
STAINER & BELL £14.95 each
Following 2021's Top Banana (reviewed July 2022), Celia Cobb and Naomi Yandell have produced another volume of duets for string players. Cool Beans offers '21 character duets for pupil and teacher' and, as with its predecessor, the pieces range from simple tunes comprising open strings and basic fingerings (equivalent to around ABRSM/Trinity Grade 1) to more complex syncopated rhythms, tonalities and position changes (bordering on around grades 2–3).
Cool Beans is available for violin, viola and cello, and each copy comes with a solo pupil part as well as a score with a duet part for the teacher or suitable partner. I enlisted the help of a cellist friend to play through the cello version, as we swapped between pupil and teacher parts throughout the book. While its contents shine with the range of styles, notation and techniques that are introduced gradually for the pupil, the teacher duet parts provide consistent support, with accompaniments that act as musical and harmonic scaffolding. They were also satisfyingly rich to play (not to mention a good test of my sightreading – a useful strategy for any teachers who may need extra motivation to inspire children on those early Monday mornings).
The Practice Notes included at the back of each book are particularly useful. Three bullet points illustrate the aims of each piece, as well as offer hints and a glossary of unfamiliar words or notation. Most teachers will provide notes for their pupils in a class; however, these notes can also be an easy reference for pupils, their parents and practice supervisors away from lessons. Let's face it – kids forget everything you tell them anyway.
Cobb and Yandell's love of analogies and storytelling is clear even from the piece titles, such as 'After the Storm', 'Watch Out (for the REALLY SCARY MONSTER)' and 'Tango Waltz', which suggest specific styles, images and moods to pique students' interest. And what a range of styles. 'Simon Says' provides a call-and-response copycat song illustrative of its name, while 'Mind the Gap' introduces 5/4 metre featuring a cavernous crotchet rest on the fourth beat of the bar, with the suggestion 'you might find it useful to say "shh" in each rest' offered in the Practice Notes.
These books provide an injection of fresh repertoire for young string players, which will be a useful addition to any teacher's arsenal and come in handy in many situations. It could be something fun with which to end the lesson away from exam syllabus repertoire, a performance piece for a studio recital, or a showcase of the power of musical storytelling, under the guise of gradually introduced techniques, notations and styles. The keys are the same over the violin, viola and cello parts, so the books could be used for mixed ensemble classes, or even between pupils of differing levels if you have students advanced enough to take the accompaniment line. Unfortunately there is no double bass edition as yet.
All in all, this is a varied, vibrant and versatile collection of works to incorporate ensemble playing into beginner lessons – something certainly relished by teachers and students this side of the pandemic.
DAVINA SHUM