A spirited take on Bartók violin concertos, but one that sacrifices precision for indulgence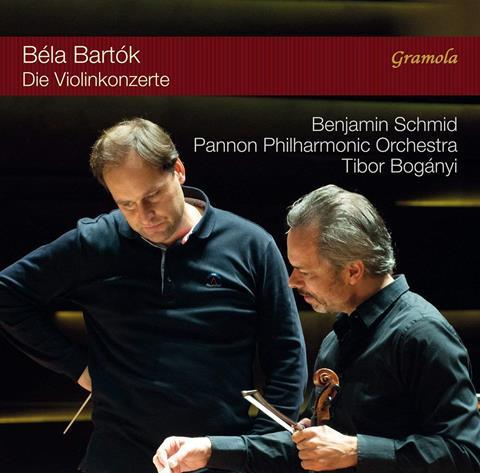 The Strad Issue: October 2018
Description: Lyrical moments but lacking in necessary tonal refinement
Musicians: Benjamin Schmid (violin), Pannon Philharmonic Orchestra Pécs/Tibor Bogányi
Works: BARTÓK Violin Concertos nos. 1 & 2
Catalogue Number: GRAMOLA GRAM 99138
From the opening of Bartók's two-movement First Violin Concerto, Benjamin Schmid reveals a nice line in serene lyricism, shaping the first movement's arch-like trajectory with masterful ease. Tone begins to go, however, when he puts more pressure into his bow in the second movement and the rhythmic clarity that had served him well in the slow music becomes more snatched-at in the second movement's feistier passages, though the music's youthful exuberance shines through.
There's a place for a certain coarseness in Bartók – indeed, the composer sometimes deliberately calls for it – but as, for example, Gil Shaham (DG) or James Ehnes (Chandos) show, it's possible to dig deep into the strings without the tone becoming scratchy or notes being lunged at. Schmid's own way with no.2 is spirited, but there's the same discomfort in the vigorous music, where precision is sacrificed for indulgence and impetuousness (movement durations are consistently longer than Bartók's own calculations, but nothing new there) and the central slow movement again reveals him at his best.
Despite its authentic Hungarian source, the orchestral playing is not especially distinguished and the recording balance, in over-favouring the soloist, means it often lacks both punch and transparency.
MATTHEW RYE