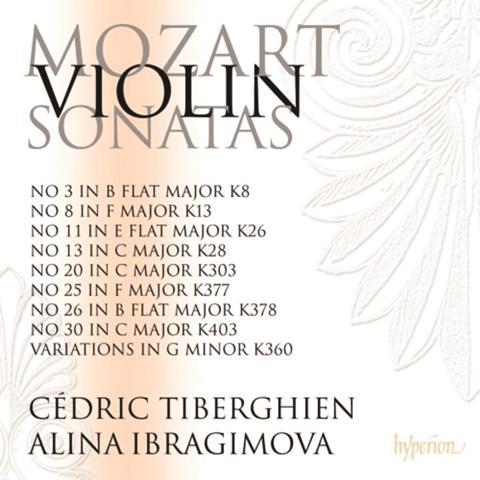 The Strad Issue: October 2017
Description: Standards remain high: some of the most committed Mozart playing you'll hear
Musicians: Alina Ibragimova (violin) Cédric Tiberghien (fortepiano)
Composer: Mozart
Catalogue Number: HYPERION CDA68164 [2 CDs]
Volume 4 of this acclaimed cycle sustains the high standards of its predecessors, presenting a careful selection of works from across Mozart's career. Alina Ibragimova's approach to the keyboard-dominated juvenilia is revelatory, her 'accompaniments' enhancing Cédric Tiberghien's dexterous, expressive playing at every turn, giving meaningful weight to passages of imitation, as in the surprisingly driven Allegro maestoso of K28, conveying the vitality and humour of the rondeau finale of K26, and providing a kaleidoscope of tonal colour throughout. Intonation is flawless, articulation is crisp and phrasing is empathetic.Ibragimova and Tiberghien choose to ignore K13's ad libitum cello parts but include Maximilian Stadler's imaginative completion of the finale of K403, dashing through it at an express allegretto; but they allow us to savour Mozart's original first two movements and the K360 Variations, revealing unexpected facets along the way.
The gems of this disc, though, are their accounts of the more mature sonatas, in which the violin has a more equitable role. They realise the contrasts inherent in the slow–fast–slow–fast opening movement of K303 with seasoned expertise, and linger lovingly over the first theme of the subsequent Adagio. They give K377 and K378 a fresh and invigorating sense of volatility, whether on account of the slick, exuberant Allegro and imaginatively executed Andante variations of the former, or the subtle agogic accents and clean articulation of the outer movements of the latter. Hyperion's recording is clear and warm, and balance issues are generally well calibrated. It is hard to imagine more vital, committed or persuasive performances than these.
ROBIN STOWELL