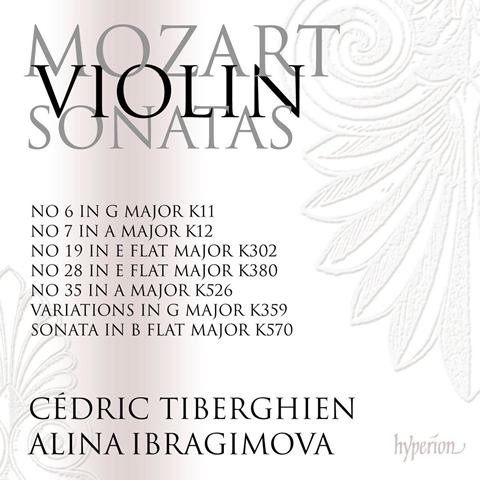 The Strad Issue: June 2018
Description: Another outstanding Mozart release from this partnership
Musicians: Alina Ibragimova (violin) Cédric Tiberghien (piano)
Works: MOZART Violin sonatas: in G major K11, in A major K12, in E flat major K302, in E flat major K380, in A major K526, in B flat major K570; Variations in G major on 'La bergère Célimène' K359
Catalogue Number: HYPERION CDA68175 (2 CDS)
The first of this two-disc set opens with the E flat major Sonata K380 played with delightful delicacy. The triplets in the first movement's second subject skip along insouciantly. The slow movement is mostly gentle, apart from the quirky outburst in the second half, and the Rondo bursts forth on a surge of energy.
From here the CD turns backwards to eight-year-old Mozart, first with K12 and then K11, both played with unaffected charm. There is an air of mystery in the opening Andante of K11, and again in the rather mournful minuet sitting in the middle of the otherwise perky second-movement Allegro. The disc ends with K570 in B flat major, originally for piano and arranged by an unknown hand. Tiberghien is typically clean and limpid, his phrasing at once subtle and straightforward.
K302 in E flat major starts the second disc, opening with quite a vigorous descending arpeggio and continuing in colourful style with strong dynamic contrasts. Ibragimova's vibrato is always sparing and used as much to point notes as to warm them. The melody of the second movement is a case in point, simple and exquisite. The open-hearted performance of the Variations on 'La bergère Célimène' is a fine example of art concealing art. Finally comes K526 in A major. The first movement features the most dramatic playing of the set. Ibragimova strokes the melodies of the second movement with feather-light bowing, and the presto is a joyful romp. The sound is balanced and warm, with just the right amount of resonance.
TIM HOMFRAY