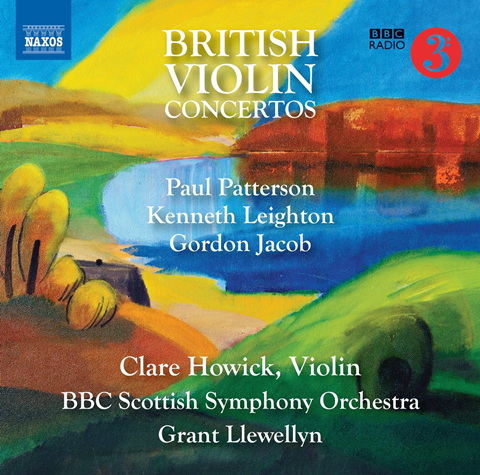 The Strad Issue: March 2018
Description: Brilliant performances of highly distilled British concertos
Musicians: Clare Howick (violin), BBC Scottish Symphony Orchestra/Grant Llewellyn
Works: PATTERSON Violin Concerto no.2 'Serenade'. LEIGHTON Concerto for violin and small orchestra. JACOB Concerto for violin and string orchestra
Catalogue Number: NAXOS 8.573791
All three concertos featured here tend towards expressive concision and distilled lyrical intensity, providing a perfect match for Howick's narrow-fast-vibratoed agility and soaring, golden-toned cantabile. Paul Patterson's three-movement concerto (sub-titled 'Serenade') was written for Howick as recently as 2013. Behind its generic titles – Toccata, Barcarolle and Valse-Scherzo – lies a dazzling fusion of American-flavoured post-Romanticism and European-style neo-Classicism, that Howick embraces with alacrity, investing the music with a heartfelt vitality that brings it startlingly alive.
Kenneth Leighton's propensity for music of emotional cool, activated by an exhilarating rhythmic instinct and timbral focus, is encapsulated in his op.12 concerto of 1952, written (like the Gordon Jacob) for Frederick Grinke. The Jacob is also a highly inventive score in an energised, neoclassical vein, similarly reluctant to wear its heart on its sleeve – yet Howick creates the impression of discovering both works' special qualities for the first time as she invests every phrase with an emotional imperativeness that is deeply affecting. Spontaneously impassioned artistry from Howick is matched by playing of exhilarating zeal and commitment from the BBC Scottish players under Grant Llewellyn, and seductively cushioned sound. It is to be hoped that these outstanding premiere recordings will inspire other soloists to take up the cudgels on behalf of these enterprising scores.
JULIAN HAYLOCK