The findings by scientists at the National Taiwan University have been published in the PNAS journal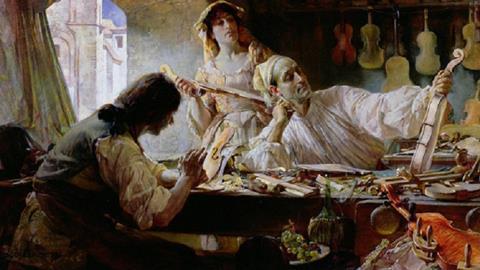 New research published in Proceedings of the National Academy of Sciences of the United States of America (PNAS) suggests that a special chemical treatment of the maple used by Stradivarius and other Cremonese makers may account for the unique sound of their instruments.
Researchers from the National Taiwan University – led by Hwan-Ching Tai from the Department of Chemistry and including Chi Mei Museum curator Dai-Ting Chung and Stradivari varnish expert Brigitte Brandmair – detected evidence of the mineral treatment in maple samples removed from four Stradivari violins and cellos, plus one Guarneri 'del Gesù' violin, when compared with modern instruments. The team used a combination of five analytical methods: NMR, synchrotron X-ray, DSC, TGA, and ICP-MS.
'Stradivari's use of mineral-treated maples belonged to a forgotten tradition unknown to later violin makers,' write the researchers. 'Elemental analyses by inductively coupled plasma mass spectrometry suggested that Stradivari's maples were treated with complex mineral preservatives containing Al, Ca, Cu, Na, K, and Zn. This type of chemical seasoning was an unusual practice, unknown to later generations of violin makers.'
The scientists also observed: 'His maple appeared to be transformed by aging and vibration, resulting in a unique composite material unavailable to modern makers.'
The researchers have recommended further investigation in this field, however, concluding: 'Additional antique instruments from Cremona and other Italian cities need to be analysed to elucidate if there were unique wood properties associated with Cremonese makers or Stradivari himself.'
Image: a fictionalised 1893 painting of Stradivari by Edgar Bundy