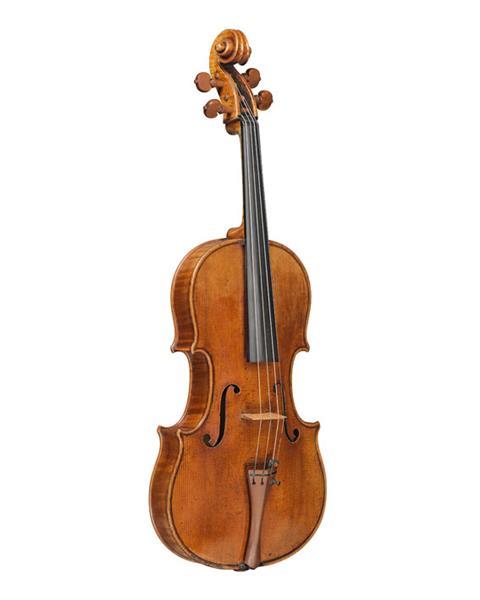 The 1719 'Macdonald' Stradivarius viola is to go on the market. One of only ten surviving violas made by the master luthier, the instrument will be offered for sale in a sealed bid process by auctioneers Sotheby's and Ingles & Hayday.

Made during Stradivarius's so-called 'golden period' (1700–20), the viola was originally owned by the Marquis dalla Rosa of Parma. Over the next three centuries it was owned by several players, makers and dealers, including J.B. Vuillaume, John Betts, and W.E. Hill & Sons. In a letter of 2 November 1926 to the Rudolph Wurlitzer Co. in New York, Alfred Hill wrote, 'I have seen every existing specimen [of Stradivarius's violas], and, judged as a whole, I place this viola at the top; its proportions are untouched and, in fact, as left by the maker.'

The instrument's name derives from its owner Godfrey Bosville, the third Baron Macdonald, who bought the viola in the 1820s. He is also known to have owned the 1711 'Mara' Stradivarius cello, now owned and played by Heinrich Schiff.

In 1964 it was purchased for Peter Schidlof, violist of the Amadeus Quartet, who died in 1987. In one of his final interviews, printed in The Strad in January 1988, Schidlof called the viola 'utter perfection', adding: 'It is in a remarkable state of preservation, with a lot of varnish and not a single crack.' Of the ten existing Stradivarius violas, only one other is currently in private hands: the 1690 'Tuscan' contralto viola, which is owned privately but held at the Library of Congress in Washington DC.

The viola will be shown at Sotheby's premises in New York on 27 March, and in Hong Kong on 4 April. It will also be shown to media in Paris, France, on 15 April.

The auctioneers are inviting bids 'in excess of $45 million (£27 million)' for the viola. If it were sold for such a price it would mark a world record for any musical instrument: the current auction record is held by the 'Lady Blunt' Stradivarius violin of 1721, which was sold by the Nippon Music Foundation in June 2011 for £9.8m.

In January 2013 the 1731 'Vieuxtemps' violin by Giuseppe Guarneri 'del Gesù' was sold by London dealers J.&.A. Beare to an anonymous buyer for an undisclosed sum, although Beares confirmed that the price exceeded £9.8 million.


Photos: Click on any of the above images to see a larger version, and use the left and right arrow keys to scroll through the gallery. All photos courtesy Sotheby's
Dimensions
Back length: 411mm
Upper bouts: 185mm
Middle bouts: 126mm
Lower bouts: 241mm

Subscribe to The Strad or download our digital edition as part of a 30-day free trial.